25 Reasons to buy Real Estate in Turkey with Tolerance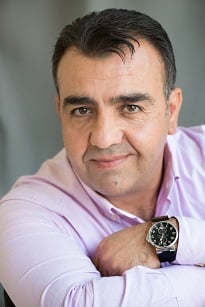 Every year, thousands of foreign citizens buy real property in Turkey. Since not every player of today's real estate market is capable of keeping to quality principles at all stages, it is key to choose the right agency from the start. Tolerance Real Estate Agency focuses on professionalism and high industry standards. Our clients value their time and money, and needless to say that they want the best for themselves and their families. For over 18 years, we have been helping foreigners to buy property in Turkey. We give our clients assistance at all stages of the deal: from document processing to getting a residence permit and helping with adaptation to life in a new country. It is our mission!
Yildirim Ozden
Director General, Tolerance Real Estate Agency
25 reasons to buy Real Estate in Turkey with Tolerance
Reliability and Professionalism

Over the 18 years of our work more than a thousand of foreigners have become our grateful clients. Their references prove that you entrust your purchase to real professionals.

Legitimacy and Confidence

We know in detail all the laws and procedures, we carefully check all the documents to provide you with maximum protection and reliability.

Wide Choice

We have our offices all over the coast and can offer you a huge selection of property objects first-hand, without intermediaries. Our goal is to help you select property where you want, and not where it need to be sold.

Best Price Guarantee

We are a leading real estate operator on the local market, and we have exclusive agreements with major developers and property owners. Our reputation and image have the weight that helps us get the best terms and prices practically for any property.

24/7 Support

We always help our customers with adaptation process in Turkey: setting up household; buying furniture, a car; finding language courses, a doctor, school or childcare center — we are at your disposal to address these issues around the clock.
No Hidden Fees

We guarantee our customers the best prices without any hidden commission normally expected on the real estate market in Turkey. Fix the price yourself in direct bargain with the seller — what could be better? Our agent's fee is open and is as low as 3% of the cost of the property. The deal is fair and transparent from the beginning — stay alert and save thousands of Euros!

Free Welcome Tour

We arrange a free welcome tour for our clients. Dedicated specialists from Tolerance will meet you at the airport and accommodate you in luxurious apartments during the time you will need to select a property and sign the contract.

Interest-Free Installment Plans and Loans

When buying a property in new buildings, our clients often get interest-free installments from the developer for a period from one to five years. If necessary, we can help you with getting a loan in a Turkish bank under most attractive terms.

Full Registration of Your Property

We will help you with a title deed registration. You do not need to hire an attorney or a lawyer and pay for their services. You pay state taxes and duties only.

Free Connection to Electricity and Water Supply

We help with electricity and water supply connection for free. You do not need to spend your time at various institutions, and you pay applicable fees only.
Confidence in RELIABILITY AND TRANSPARENCY OF THE DEAL
Documents Verification

We always inspect properties to be purchased, perform a thorough expert examination of the related documents (Tapu, Iskan, owner's documents, the seller's rights, possible encumbrances, debts and so on). As a result, our clients are provided with full information and documentation on the property.

Legal Transparency

We make sure that all the documents you are to sign when buying a property fully comply with the laws and procedures governing the purchase of real estate by foreign citizens in Turkey.

We Are Always on the Client's Side

We always protect our clients' interests and monitor the implementation of all commitments incurred by the seller in the signed contract.

Confirmation of Monetary Transactions

We help our clients to choose the most suitable way of payment, and provide them with an official proof that the seller has received the payment under the contract.

Confidentiality

Under no circumstances do we ever disclose your personal information to third parties. Our clients enjoy full confidence in the safety of their data.
Personal Manager

From the very beginning of our cooperation, we assign a personal manager to work with you. He or she knows the Turkish real estate market in detail and is ready to answer all your questions. The manager will select the best properties as per your preferences and help you to make the right choice. Moreover, you can count on the manager even after you have entered into the contract.

Easy Website Navigation

Our website presents detailed, accurate and reliable information on all the properties. You can use a convenient feedback form and we will promptly find you a selection of offerings, which perfectly match you requirements.

Only the Best Offers

The 17-year experience of working in the local market enables us to make an expert assessment of the property based to its location, quality and price and therefore we offer to our clients only the options meeting their expectations.

Clear Sequence of Actions in Business Processes

Over the years, we have built a streamlined algorithm of work, and our clients do not need to break away from their affairs for a long time. You can select real property and sign all the documents in no more than 2-3 days.

Expeditious Performance of a Deal

For more than 17 years, we have been processing daily tons of documentation related to real estate These documents are required for deal registration and submission to numerous state agencies. We know in full where, how and with whom we can complete this in the most efficient way.
Our clients have AFTERSALES ASSISTANCE
Furnishing and Repair Works

We help select and buy suitable furniture and household appliances. Any repair work can be arranged by request with full warranty.

Leasing and Managing Your Property

We have the best opportunities in Turkey to lease your property with a guaranteed rental income while you are away.

Taking Care of Your Property

We are the only agency that provides customers with a service package. We relieve you of your duty to pay the bills, watch the property during your absence and so on. We take care of this!

Working with Banks

We open bank accounts for individuals and legal entities at no charge. Our clients always get the best operating terms and banking services.

Business Support

We can help you register a company in Turkey, find an accountant and a managing director. Our clients do not have any open issues with the tax inspectorate and other state agencies.
Our Clients Become OUR FRIENDS!

Yildirim Ozden
Managing Director