Villas For Sale in Izmir
Idyllic Izmir is situated right on Turkey's beautiful Aegean coast and is truly an ideal place to invest in property. Villas in Izmir are state-of-the-art places with all of the amenities that you have come to expect from luxury accommodations. Best of all, they are a great investment, as this particular area is gaining tons of traction with international investors.
Like much of Turkey, Izmir is full of awe-inspiring archeological sites that date all of the way back to ancient Greek and Roman times, making this city the perfect fusion of old and new worlds.

Cesme has some of the best villas of Izmir. It's located right on the azure Aegean Sea and is famous for being a resort town full of some of the best shopping on the planet, thermal baths, and beautiful architecture. These villas are almost guaranteed to come along with a stunning view of the sea, and many are within walking distance to the amazing Aegean, making these villas some of the most prime property in all of Izmir.

Villas in this region of Turkey also generally come with all of the amenities that you would come to expect from high-end living. Swimming pools and fitness centers are very common features, as are Turkish baths.

Tolerance Homes specializes in featuring villas that are the last word in luxury. Our properties are specifically designed to be sanctuaries and places of relaxation, as well as great home bases for exploring all that Izmir and Turkey has to offer. A villa in Izmir is a great investment, and a Tolerance Homes property is one that you know will stand the test of time and only become more valuable in the coming years. Invest in something that will bring you joy for years to come: an Izmir villa.

Best price guaranteed
Hot offer
For Residence Permit
With Installment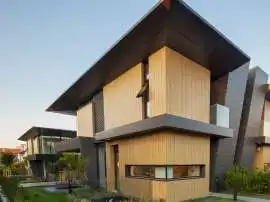 The possibility of installment up to 1 year
When paying in cash, a discount of 7%
The possibility of obtaining citizenship
Unique architecture, modern exclusive design
2 outdoor pools
Walk to the sea
District

İzmir, Çeşme
Distance to the sea

2.0 km
Pool

Open

Yildirim Ozden
Managing Director