Kusadasi Apartments For Sale
Kuşadası is a fabulous place that celebrates both the old and new. You can find sophisticated resorts rubbing shoulders with ancient ruins in this Turkish beach town. Since Kusadasi is exploding in popularity, it should come as no surprise that apartments in Kusadasi are in high demand both by foreigners and locals. Now is the perfect time to cash in on the lucrative Kusadasi real estate market.

What Makes Kusadasi Special?
Kusadasi is one of the jewels of the Aegean coast. Its proximity to ancient ruins and incredible beaches make it a local hot spot for tourists in the know. It's also a popular cruise ship port. There are plenty of things to do in Kusadasi and many reasons why people are choosing to purchase property there.

Ephesus
The ruined city of Ephesus is one of the biggest draws. This city was critical for trade during ancient times and has been lovingly preserved so people can enjoy it in modernity.
Kusadasi Beaches
Kusadasi is known for its long stretches of pristine beaches. Sit and soak up the sun on Silver Sands Beach, Ladies Beach, or Love Beach. You can also go for a dip in the crystal-clear waters right off Kusadasi's coast.
Selcuk Market
If you find yourself in Kusadasi don't forget to check out a traditional Turkish market. The Selcuk Market is a great place to pick up some souvenirs and sample the local cuisine.
The Benefits Of Buying Property In Kusadasi
Since Kusadasi is just now coming into its own as a tourist destination, you are certain to get a tremendous return on your property investment. The real estate market has been growing by leaps and bounds and is just projected to skyrocket further. An investment in Kusadasi is an investment in your future.

One popular way to make a little extra money on your Kusadasi property is to rent it out in the high season. Since Kusadasi is just now gaining international attention, it's a great time to buy a property that you can make a profit off of. Rent out your home, villa, or apartment and you'll see a return on your investment almost immediately.

Tolerance Homes has Kusadasi apartments for sale at competitive prices. These properties are state-of-the-art apartments in excellent locations with all of the amenities that you could want. Most of them are completely furnished and boast incredible views of the sea and mountains. Tolerance Homes apartments come with swimming pools, fitness centers, and on-site parking. They are secure and comfortable.

Right now you can invest in Kusadasi real estate for competitive prices, but the costs won't stay low forever. As Kusadasi becomes more popular, the rates will go up. Now is the best time for you to make an investment in your future with a modern Kusadasi apartment.
Best price guaranteed
From the developer
With pool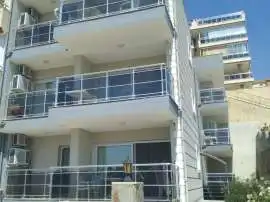 Eight furnished apartments

Swimming pool
Nice location
Mountain and sea views

District

Kuşadası
Distance to the sea

2.0 km
Pool

Open

Yildirim Ozden
Managing Director