Property For Sale in Kas
If you're looking for a fabulous place to buy real estate that incorporates ancient history and modern convenience, you really can't do any better than Kas. The real estate in Kas, Turkey has never been better, or more affordable. Plenty of investors from all over the world have fallen in love with Kas, and it's easy to see why. 
Real estate in Kas
Anyone interested in investing will be spoiled for choice when it comes to Kas properties. Tolerance Homes has plenty of villas and apartments starting right around $100,000. You can live in paradise with all of the amenities that you've come to associate with luxury. Private pools, expertly groomed gardens, and stunning views are all common features of Tolerance Homes' properties.

Ultimately, you'll also be in good company. Kas' popularity is growing in leaps and bounds, and a thriving foreigners community now proudly calls Kas their home. With more and more people learning about this incredible Turkish city, popularity is only expected to rise. Now is the optimal time to get in on the ground floor and invest in some of Kas' real estate. The homes, apartments, and villas make perfect vacation homes or permanent residences right on the idyllic Mediterranean Sea.

 Why Should You Buy Property In Kas?
Kas is one of the most beautiful places in all of Turkey. This sleepy town on the Meditteranean is a bountiful paradise of natural activities and cosmopolitan charm. It's easy to get lost on the winding streets of Kas, and you can pass a wonderful afternoon there sipping tea or coffee at one of the many cafes. 

If relaxing and drinking coffee isn't for you, the beaches of Kas are not to be missed. There are plenty of watersports to participate in, and the diving in Kas is absolutely sublime. You can easily pass a lovely afternoon walking along the beach and simply soaking in the scenery. Also in Kas is a new magnificent marina for yachts and ships.

Kas is a fantastic place to settle down in because you get all of the convenience of a big city with a small town relaxing vibe. 

History aficionados will be able to get their fill in Kas. The iconic amphitheater is just a few minutes by foot from Kas. It's truly miraculous and intriguing to wander in the footsteps of the ancient Turks. The amphitheater is very well maintained and there are even concerts there from time to time, another giant perk of living in Kas. 

Kas is also home to farmer's markets and plenty of boutique stores and shops. If you care are supporting local artisans and the environment, Kas is the ideal spot where you can make a huge difference. The craftsmanship and sheer beauty of the handicrafts that you will find in Kas can't be overstated. Additionally, the vegetables and fish in the markets are always fresh and completely delicious. Kas is a gem. 

Even better, there's plenty of property for sale in Kas Turkey. Right now is the best time to invest because you will truly get the pick of the litter, real-estate wise! 

Kas Property For Sale
No matter what kind of property you have in mind, you can find it in Kas. There are sprawling mansions with breathtaking gardens and lovely personal pools. If a mansion is too large for your taste, you can also settle in at a charming villa with tons of character and all of the amenities that you would expect from a luxury destination. 

Should you choose to step into your own private apartment, you absolutely can. Apartment living is a great way to connect with your international neighbors and save a little bit of money on housing costs. All Tolerance Homes apartments come with excellent perks and many of them have a gorgeous view of the nearby azure Mediterranean Sea. Step onto your new terrace and you'll be truly stepping into a waking dream of living in paradise. Most apartments and villas are fully stocked with everything you need. All appliances are new, fully functioning, and ready to use. Best of all, most spaces are large enough to entertain. Your guests will be absolutely enchanted by the balmy Mediterranean weather and the stunning views right off your personal terrace.

All of these perks have not gone unnoticed by the international community, and housing prices in Kas have gone up in the last few years. With demand increasing as Kas enters the international stage, now is the best time to invest and get in on the ground floor. Kas will only become more and more in demand as time goes on.

Kas is the perfect seaside jewel, and one of the most sought-after places to visit in Turkey. Incredibly, you can stake out a space for yourself in Kas by investing in a home, villa or apartment. 
New Build Property For Sale in Kas
Kas new build properties are sold with a building guarantee, ensuring that any niggles or problems will be ironed out by the developer, guaranteeing peace of mind as a buyer. At Tolerance homes, we regularly screen the market for quality new builds in all parts of the Kas coastline.
Apartments For Sale In New Projects In Kas
There are a large number of stylish new build homes on the Kas market, ranging from small apartments to large, seaside family villas. Most new build properties in Kas can be purchased along with furniture packages, allowing you to move into your home with a minimum of fuss.
New build property in Kas for sale by reliable developers
As Tolerance Homes we ensure that developers we work with comply with our stringent quality standards and are reliable to see through their warranties on their new built properties in Kas. A new build home represents a new beginning in Kas and a place to build new memories. And what better place to start afresh than Kas with us? Kas's new homes are built to consistently high standards and Tolerance Homes ready to serve you.
Cheap Property For Sale in Kas
As a real estate agency in Kas, we often hear this question from home buyers. Where is the cheapest region to buy property in Kas? Our years of experience in the Kas real estate market means we can quickly answer this question. However remember, when purchasing a property anywhere globally, there is more to consider than the house-price.
How Much is Cheap Property in Kas
In Kas, leasehold properties for sale are by far more cheaper than most countries. We also use our local knowledge of the Kas property market to advise people on more than just buying. We look at where the cheapest property for sale is and other factors about the housing market that buyers should consider.
The Best Place in Kas to buy Bargain Property
When the decision to buy property in Kas has been made, you may ask yourself what are the extra expenses among the cost of the real estate object. Though the procedure of real estate purchase in Kas is very simple, there are some more expenses. For more Information please contact us.
Property For Sale in Kas Under 50K
Bargain Kas Property under 50K. Fancy getting your hands on bargain Kas property this summer with us? Tolerance Homes have a great and cheap selection of fabulous Kas apartments and villas for sale under 50.000 Euros. Contact us to view our selection of affordable homes, distressed properties, cheap apartments for sale in Kas.
Luxury Property For Sale in Kas
Luxury Properties in Kas Unique and Inspiring Homes, Villas and Real Estate for sale. To look for luxury homes for sale in Kas, browse our portfolio.Tolerance Homes specializes in offering stylish and unique luxury homes, in the most desirable locations, while providing excellent return on investment.
Luxury Villas For Sale in Kas
For foreigners with financing already in place, the process of buying Kas villa is straightforward and quick compared to other countries like the UK. We talk about the exact process of buying villa in Kas here, but as property agents, we walk you through each step of the sale anyway and are always available to answer questions and help you with your real estate investment.
Luxury Homes For Sale in Kas
Search for Kas luxury homes with the Tolerance Real Estate network, your premier resource for Kas homes. We have more than 855 luxury homes for sale in Kas. Homes listings include vacation homes, apartments, penthouses, luxury retreats, lake homes, ski chalets, villas, and many more lifestyle options. Each sale listing includes detailed descriptions, photos, amenities and neighborhood information for Kas.
Luxury Apartments For Sale in Kas
Attic and luxury apartments on sale in Kas and in different cities. Constantly updated selection of splendid apartments for sale from all over Kas with the purpose to offer our clients a full catalogue inclusive of prestigious estates and dream apartments, located in the most extraordinary areas of Kas.
Property For Sale in Kas By Owners
Find Kas properties directly from the owner with the best Kas real estate agency. If you are looking at property for sale in Kas by owners , you are in the right place
Property For Sale in Kas - Kas Real Estate
Tolerance Homes - Property for Sale in Kas . Your Kas Real Estate. With requests from potential buyers increasing year on year, Tolerance Homes sets the benchmark for selling Kas properties to an international audience. Our Firm reaches house hunters in over 150 countries and offers a variety of benefits to both vendors and buyers.
Properties to Invest in Kas
Are you looking for an investment property to buy in Kas? When investing in real estate in Kas our agents help you discover the best opportunities to generate a high yield. Real estate investments in Kas typically cover properties that will be rented by local residents or shop owners. A selected list of current properties from our portfolio waits for your search. For more investment properties to buy in Kas, contact one of our commercial offices.
Properties for Sale in Kas
We offer several guides for those looking to buy a property in Kas, covering aspects such as Kas law, taxes, renovation and even what it is like to live in Kas. Add to that blogs and lots of useful tips to give you the advice you need when buying a property in Kas, as we understand that it can be a daunting process.
Best price guaranteed
For Residence Permit
Citizenship approved
Ready to Move in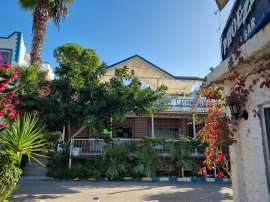 16 rooms, 40 beds

Open pool
Opportunity to obtain Turkish citizenship
professional management
Financial analysis and tax audit
Calculation of profitability and future income
International accounting reporting
District

Kaş, Kaş Center
Distance to the sea

2.4 km
Pool

Open
Best price guaranteed
For Residence Permit
Near the sea
From the developer
The complex is located on the territory of 12,000 m2

Swimming pool, generator, security, solar panels
Professional management of the complex
District

Kaş
Distance to the sea

500.0 m
Pool

Open

Yildirim Ozden
Managing Director