Antalya: the gateway of Turkish Riviera has been attracting touristic attention for years.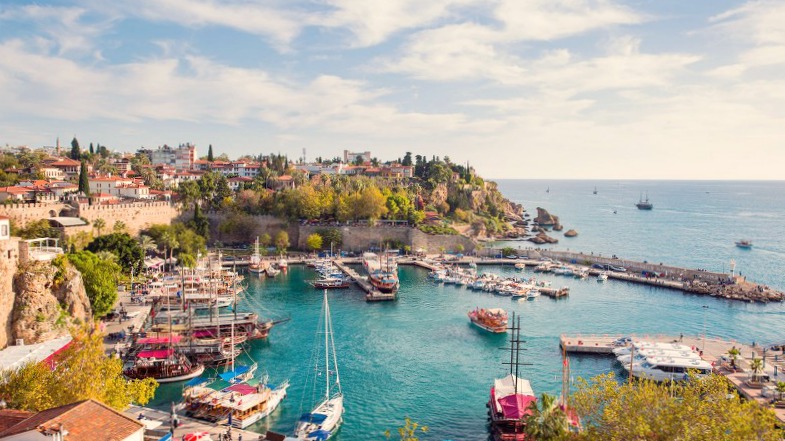 Thanks to its crystal blue sea, clean beaches and breath-taking sunsets, visitors from countries like Russia, Germany, Great Britain and Norway have been choosing Antalya as their summer destination for years. Its all-year-long warm temperature offers to be a heaven on earth for people coming from the northern countries.
But Antalya is more than just a city with beaches to which you visit for a brief holiday and go back. It is also the biggest city in Mediterranean region of Turkey and hosts a huge number of foreign locals who have settled down for good. It is a big modern cosmopolitan city with a local foreigner population of more than 50.000who hold residence permits. Hence, Antalya offers to be one of the fittest choices for settling down thanks to its warm temperature, unique natural beauties and foreigner-friendly cosmopolitan atmosphere.
Antalya is also known for its active cultural life. After mega-cities crowded with concrete skyscrapers, Antalya comes first as a cultural hub with big events such as Antalya International Movie Festival, Antalya International Choir Festival, International Old Town Festival and Antalya International Sand Festival. Apart from annual international festivals, there are also constant concerts, theatres and similar events in historic Aspendos theatre. Even if you are not an event person, there are still many other options as downtown, especially Kaleici (Old Town) is full of cosy small cafes and chic places to dine for some evening coffee or night-time fun.
All these limitless options create an image of a two-sided Antalya: one being a peaceful relaxing place where the pace of life is slower and much more relaxed by spending your day on the beach listening to the waves, and the other being a 24/7 active cultural hub with always havingsomething fun to do, whether a classical music concert or a movie festival.
Come to Antalya and have a taste of this marvellous city with limitless options and breath-taking natural beauties. Meet our team in Tolerance Homes and have a chat with the team, ask them all you want to know about Turkish real estate and buying properties in Antalya. Ask them about the wide range of properties they offer, go and see these properties even, why not? Buying properties abroad has never been this easy, tackling all the little problems of a foreign land has never been this simple.
If you are really into investing and buying properties abroad, do not decide on anything without contacting Tolerance Homes first. We have been helping foreigners from all around the world for 15 years, we know what we are doing.
Contact us and see all the opportunities our team offers.