Real estate in Turkey and real estate agencies in Turkey | Turkish realtor
Hello and welcome to all guests and subscribers of the most informative channel about life and real estate in Turkey, brought to you by the company Tolerance.

Today, I will be speaking about a very important topic: real estate in Turkey, real estate agencies in Turkey and Turkish realtors.
What should you as a customer know before starting to look at Turkish real estate? What should you pay attention to? How can you avoid making the wrong choice?
How do you pick the best-suited realtor? What qualifications must their real estate agents have in order to be able to assist you?
After watching this video, you will know all the answers to these questions, and your chances of coming across unprofessionalism and scams in Turkey will be significantly lowered.
How does the real estate market work in Turkey?
Today, I want to tell you all about how the real estate market works in Turkey, who is involved in real estate sales and exactly how they do it.

To be completely honest, at the moment almost everyone is somehow involved in the housing market.
Unfortunately, up until now, the government has not been regulating this market, which allowed practically anybody to sell real estate here.
You did not need to have an office or complete any courses, and a business without any initial capital costs attracted many.
This is the reason why there are so many real estate agents in Turkey, with the majority of them not having an office, a team, any past experience or any goals for growth in the future besides their one objective of making a quick buck while disregarding any moral principles and norms.
All the way back in 2006, prior to starting a job as a realtor, I made sure to attend the dedicated realtor courses provided by the government, because I understood the future responsibility for my work, especially when it came to real estate sales and large sums of money involved.
These courses taught me a lot and gave me all the fundamental knowledge about how this market works, how to carry out the legal side of things and how to protect my client. The certificate of completion of these courses still has a special spot at my work desk.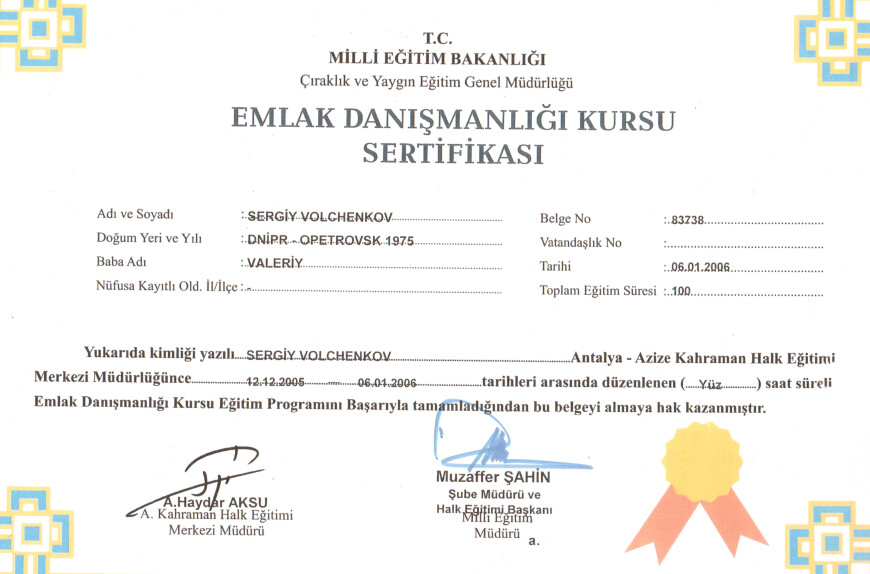 This was followed by years of work and active involvement in the field which taught me even more than the theoretical classes ever could. I have been put in a variety of different situations in my career and this gave me heaps of practical knowledge – something valued very highly in this field.
Nowadays, I am horrified at what is happening with the market. So many exploitative firms and people are actively selling real estate by luring in gullible customers and scamming them out of money.
I could write a whole book with the number of unpleasant stories I have heard about this. There have been many instances where people chose the wrong real estate developer or trusted their inexperienced friend or acquaintance with the purchase and lost all of their money.
One of such stories happened to a person I have known for a long time. They chose the wrong real estate agent and carelessly signed the presented documents, which then gave the agency the power of attorney to dictate who gets to rent those flats. Now this person can not even evict those people, let alone gain any sort of profit from the renting.
Even I, after years of hearing these stories, was shocked at this one. I did not realise how bad the situation has gotten.
The country is now full of small agencies without licenses or experience, and now even private sellers are in on the scam, hoping to make a quick profit, without any knowledge about the Turkish housing market, required documentation or the fundamental legal aspects of this.
The new law on selling real estate in Turkey.
Despite this, I have some good news for you.
Now, the government is finally beginning to regulate this market, preventing some of these scammers from being able to carry out their deals.
Provisions of the new law on selling real estate and properties in Turkey are establishing new requirements for existing realtors and those wishing to work in real estate.
The required documents for any company in Turkey.
A bit later on I will tell you more about this law, but for now, I would like to show you a list of all the required qualifications your real estate agent must present to you.
So, which qualifications are these? I will use Tolerance's documentation as an example.
Tax registration certificate, or Vergi Levhası in Turkish.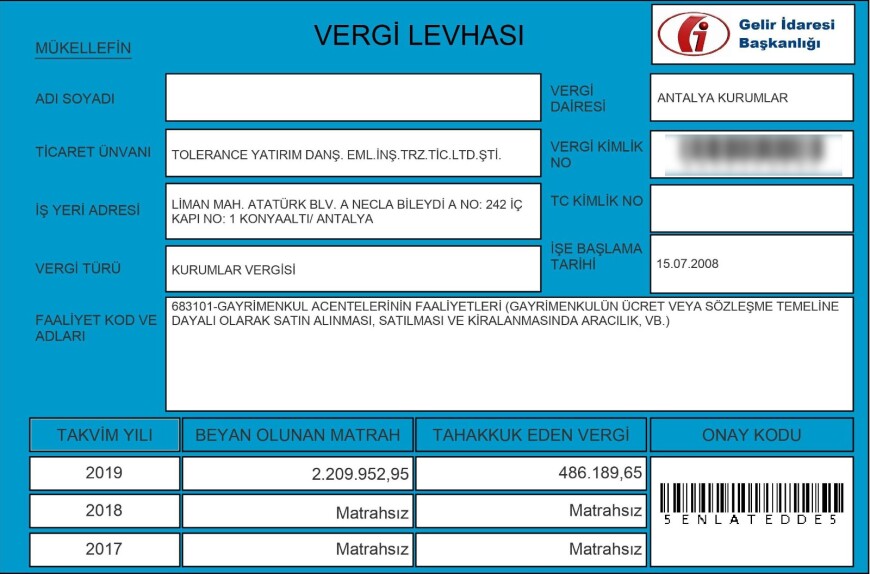 It is a document confirming that Tolerance is a registered taxpayer in Turkey, allowing the company to carry out commercial activities all throughout the country. It is a document any legitimate commercial company or organisation must have in Turkey.
A certificate proving the registration of the real estate company at the Chamber of Commerce and Industry in Turkey.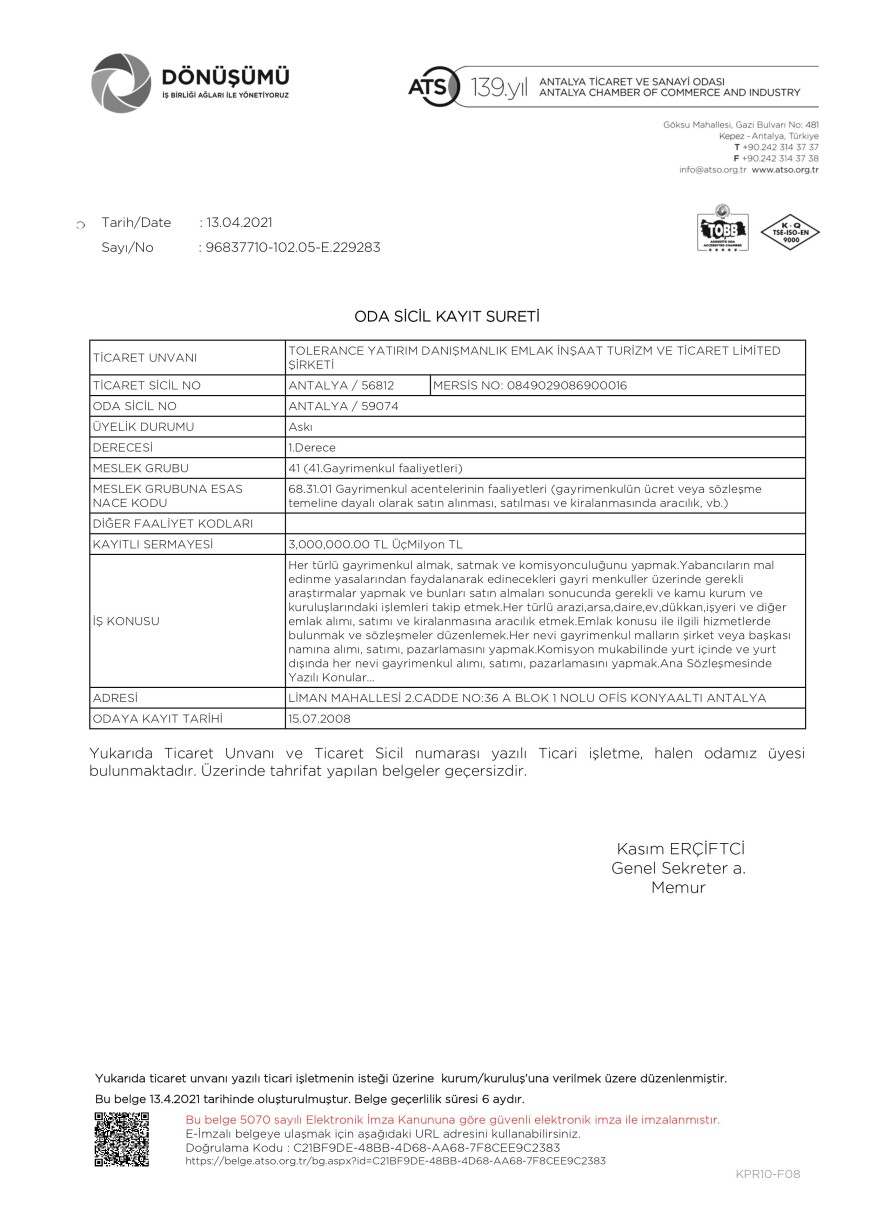 In Turkish, this document is called "Oda Sicil Kayıt Süreti".
This document proves that Tolerance is registered in the real estate section of the Chamber of Commerce and Industry in Antalya and that it is authorized to carry out commercial activities, purchase and sell the property to both citizens of Turkey and citizens of foreign countries, as well as provide additional services and make contracts with property developers and other contractors.
A document proving active involvement in commercial operations, or Faaliyet Belgesi.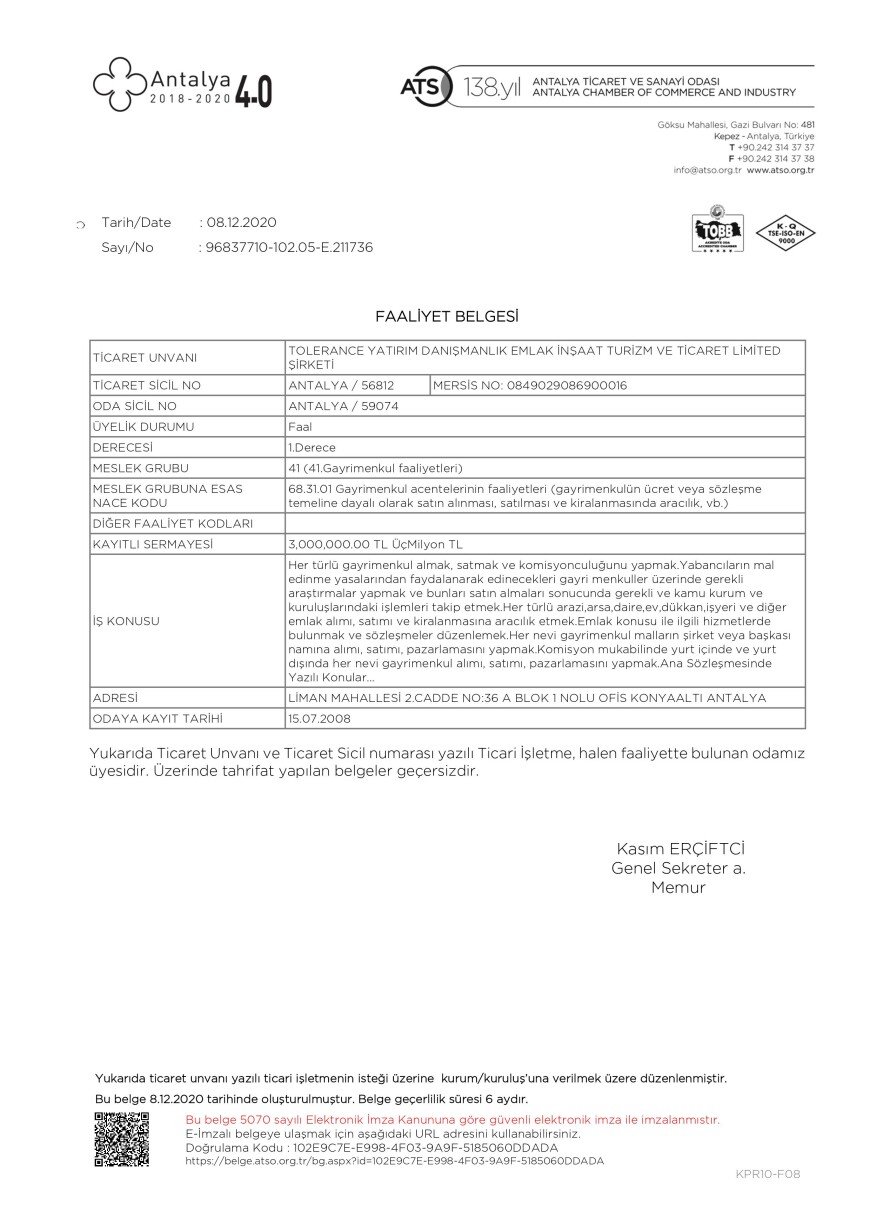 It is an important document that proves that Tolerance is actively carrying out commercial activities in Turkey. In our case, it verifies that Tolerance operates as real estate agency and is qualified to provide assistance in any case, however difficult it may be.
A municipal license for carrying out real estate activities.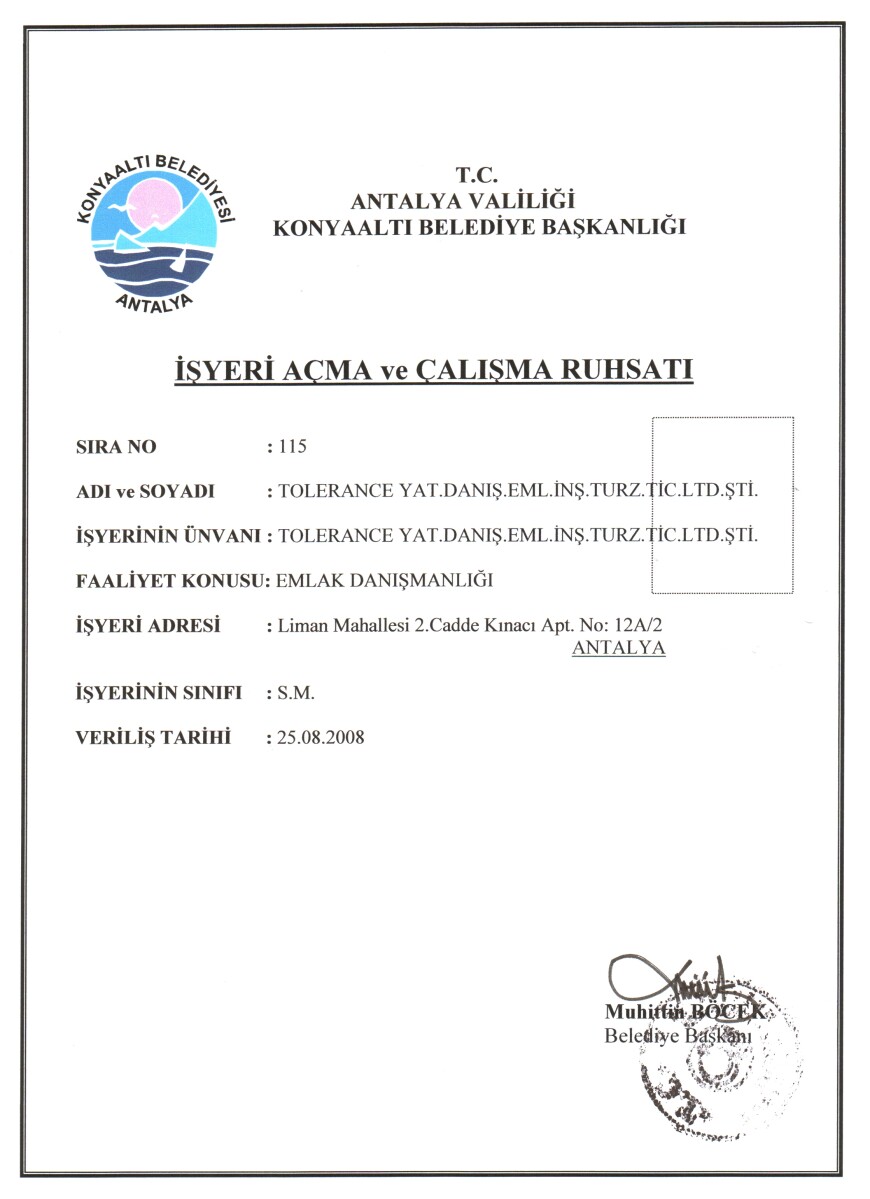 This license issued by the municipal district of Konyaalti in Antalya confirms that Tolerance is an official real estate company and is legally qualified to work and draw real estate contracts with citizens of Turkey as well as foreign citizens and any legal entities.
So, that is it for the main documents that allow any company (not only in real estate) to operate legally within the Republic of Turkey.
The documents that your real estate company must be able to present to you.
Moving on, I will tell you which documents your individual realtor must be able to present to you as a specialist in the field.
According to the provisions of the new legislation N31274 from October 14 2020 on trading real estate in Turkey:
Your realtor must have a certificate called Mesleki Yeterlilik Belgesi or a Certificate of Professional Competence. This document looks as follows and confirms that your realtor has completed their courses and passed examinations that qualify them to work as a realtor in Turkey.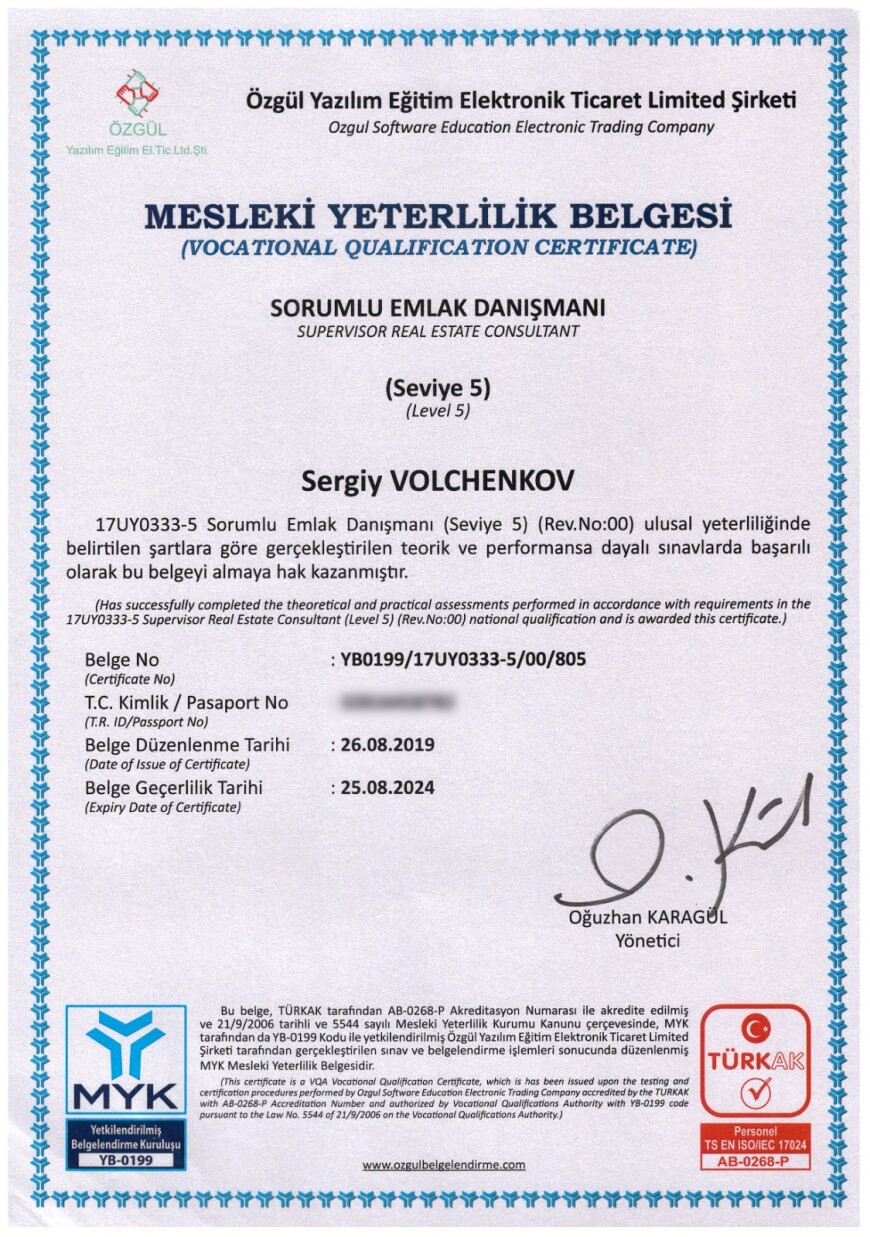 The second important document must be issued to their agency as a whole, and it is a permit to buy and sell the real estate property in Turkey. It is called Taşınmaz Ticareti Yetki Belgesi and it is issued by the Ministry of Trade, and without it, any real estate operations are deemed illegal. Pay close attention to this document, because it is the most important of all and is a must for your agency.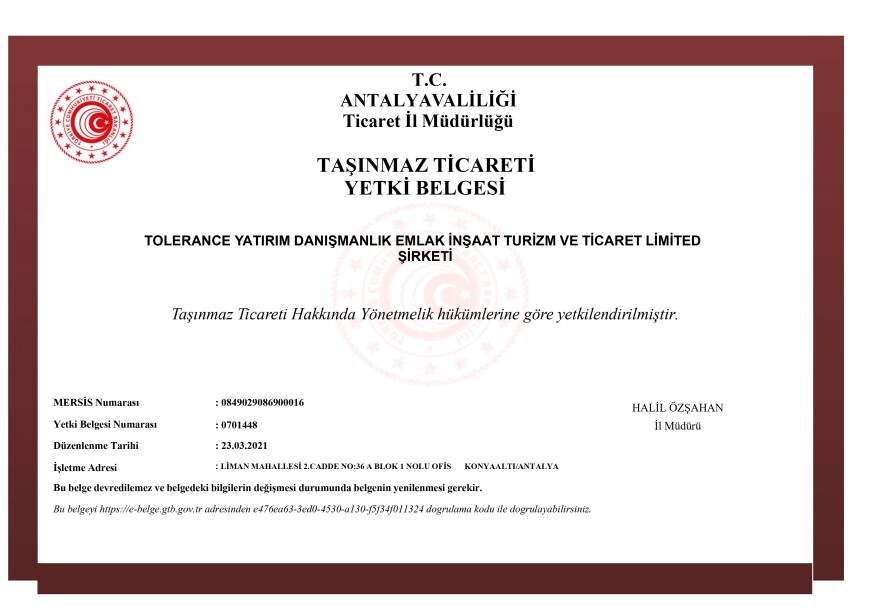 These documents prove Tolerance's authorization to deal with any real estate property on Turkish territory.
If your realtor can present you this document, it means they have successfully passed all government checks and their operations, and their agency abides by the new legislation. This means they are certified professional and you can trust them with your property purchase.
In the case that they do not have this certificate on hand, it is a big cause of concern and it is not recommended that you get involved in any business operations with them or their firm. If you decide to do so, it is at your own risk.
What else should you look out for before you carry out your purchase?
Okay, that was a list of all the important documents any legitimate real estate agent must-have. What else should you look out for before you carry out your purchase?
You absolutely must check if the real estate agency you are interested in has physical offices and employees in Turkey, which will not only help you at the purchase stage but also assist you in settling in when you move to Turkey.
Check how long the agency has been operating and if it has any reviews. If they do, it is best to read through their older reviews, for example from people who have purchased the property 10 years ago, like these reviews from Tolerance's clients! Trust me, the quality of the company's services will become apparent in 10 years' time. If your agency does its job well, its clients will not only be recommending it immediately after their purchase but also years and years later!
If your chosen agency has all of these, you can trust it to assist you with your real estate purchase in a foreign country and rest assured that they will do a good job, be open, transparent, professional and safe.
This was Sergiy Volchenckov, the development director of Turkey's leading real estate agency Tolerance.
Subscribe to our YouTube channel and ask any questions in the comments in order to always have up to date information about moving, living and purchasing property in Turkey. We know and talk about things no other company knows and speaks about!
Sergiy Volchenkov
Development Director of Tolerance Real Estate