The most popular type of tourism is a beach holiday
Many tourists are eager to visit Turkey for that exact reason the warm sea and the cleanest beaches open almost all year round.


Konyaalti beach is the longest and most well-maintained public beach in Antalya.
The beach itself starts nearby the Ataturk park located near the Migros mall and the Antalya Aquarium and it extends for more than six kilometers Antalya seaport Liman. It is very easy and convenient to get to using any bus that stops in Konyaalti.
You just have to walk a couple of minutes and voila the white sea or Akdeniz in Turkish is right in front of you. It is called Akdeniz because of the white fog that tends to cover its surface in the early mornings.
A breathtaking view of the rising sun a seemingly endless coastline that attracts millions and millions of tourists every year and gorgeous mountains which are home to the frequently visited by tourist villages of Kemer and Beldibi.

Speaking of unique traits i should note that it's a mix of sand and pebbles and the water is very clean and transparent. It gets deep rather fast however you'll still be able to clearly see the sea floor even if you swim quite far out.
Konyaalti Beach has been awarded the blue flag
It's an award that is granted annually depending on 33 criteria determined by the foundation for environmental education. The main ones include a well-maintained territory information availability for the visitors, the cleanliness of the water and the safety of the whole ecosystem.

The blue flag program originated in France back in 1985 and only a few years later spread to the entirety of Europe. People especially enjoyed visiting beaches at the blue flag award and the local government started actively cooperating with the resorts and hotels at these beaches getting involved in the program.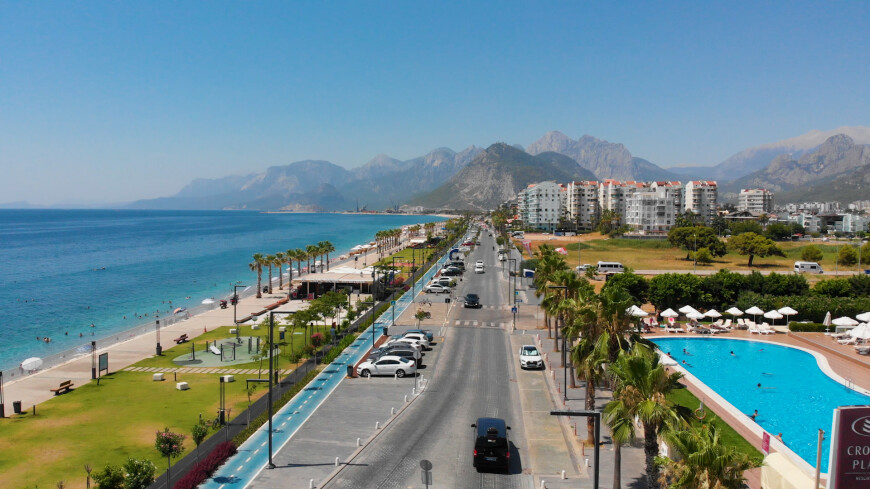 In 2001 the program went from being a European one to an international one when it awarded its first flag in South Africa. A beach that has a blue flag becomes very popular among tourists. It always comes equipped with a bathroom, a source of drinkable water, a lifeguard station and a first aid station.
The criteria for evaluating the quality of the water
It is decided by the foundation for environmental education and require a laboratory with specialized equipment. A sample is taken from about 30 centimeters below the surface of the water and is checked within 24 hours.
If everything's okay another sample is taken 31 days later. The water must be free from any pollution caused by industrial activities as well as any other pollutants brought in by the stream or those worst. Konyaalti beach's blue flag is a guarantee that your time there will be spent safely and comfortably.
Antalya's public beaches are absolutely free to visit and any local person or tourist can go there at any time they please. You are also welcome to use the changing rooms and showers.
For those of you who prefer comfort and relaxation there are many specifically equipped areas along the beach that for a small fee can provide you with sun loungers and of course umbrellas to cover you from the hot summer sun.
And in order to fully transform your stay at the beach into a five-star experience you can rent a comfy vip cabin.
A lot of bars, cafes and restaurants will be there to serve you any drinks and refreshments you like both hot and cold, snacks and even a full course lunch. For those who like their vacation full of activities we can recommend you try something from watersport or even try your luck at the inflatable obstacle courses built right in the water.
Unique geographical location Antalya
Antalya welcomes tourists and visitors all year round. The mountains surrounding the city shielded from the continental cold air masses in the winter months.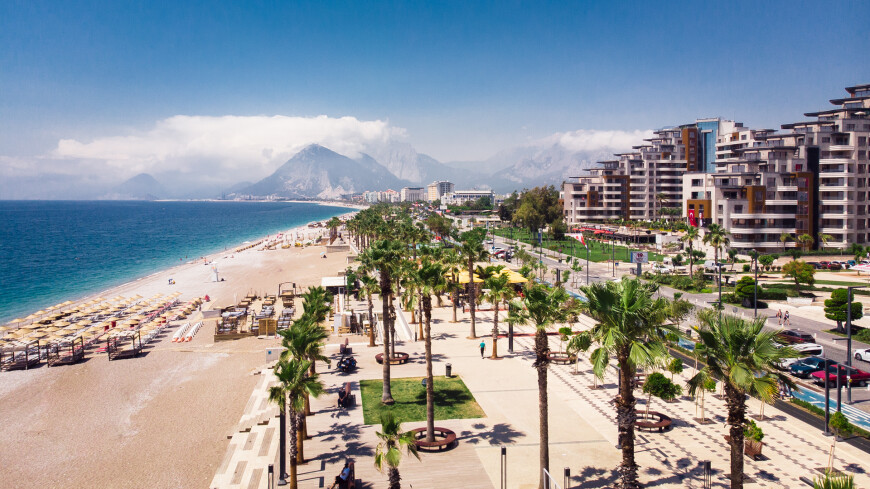 The sea gradually gives off its warmth that it has collected over the summer. This is why summer here lasts from March until November pretty much and in the winter months the climate is similar to European spring.

This is why beaches in Antalya are never empty even in the winter months. And if it's sunny you will definitely see someone tanning or swimming. The swimming season here officially begins in May and lasts until December. It all depends on the spring weather really.

If the spring is sunny for the most part, the sea will be warm up until November. By the way you should know that Antalya has 300 sunny days a year according to stat meaning that. It will always treat its visitors and residents with good weather.

When talking about the Konyaalti beach it is impossible to leave out talking about the promenade area surrounding it. In 2018 the city council has given its residents a wonderful gift of converting the previous six-lane highway into a massive multi-functional recreational area along the whole length of the beach.
The wide pedestrian zones can take you along the places where you can rest in the shade while enjoying various architectural creations of all sizes, see the beautiful bluing flowers and trees, many benches, fountains, sports fields and children's playgrounds. There are special pathways for jogging and cycling as well.
Promenade area along with the beach
It is a fantastic place for a leisurely walk, exercise a beach vacation and a good place to enjoy dinner at a restaurant with a breathtaking view of the Mediterranean sea.
Antalya's beaches are always ready to welcome new guests to give them a nice soothing swim during a hot summer days and a wonderful view on the cold sea during the winter time. It is impossible to convey with just words and you will have to come see it with your own two eyes.
Subscibe our YouTube-channel to get the best professional advices!
To get more information about property in Turkey please contact us by WhatsApp +90 537 482 8423