Citizenship Approved Apartments in Bodrum
Discover the beauty of the Bodrum Region and seize the opportunity to own citizenship approved apartments in this coastal haven. Invest in luxury real estate and potentially gain Turkish citizenship – Bodrum beckons with its stunning properties and captivating lifestyle!
ID: 24262
from 515.000 €
2 years installments
Best price guaranteed
For Residence Permit
Citizenship approved
With Installment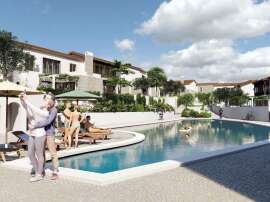 Down payment 25%, installment plan up to 24 months

Private and public outdoor pools
Infrastructures of the complex 20.000 m² - area with many olive and fruit trees
Exclusive project
District

Bodrum
Distance to the sea

6.0 km
Pool

Open
Remaining only 2 apartments!
Bodrum, a captivating jewel on Turkey's Aegean coast, boasts a thriving real estate market renowned for its citizenship approved apartments. This enchanting region not only offers a chance to own exceptional properties but also provides a prestigious pathway to Turkish citizenship for international investors.
In Bodrum, apartments with "citizenship approved" status come in a wide array of choices. Whether you desire a modern urban residence in the bustling town center, a tranquil escape in a serene coastal village, or a luxurious villa with breathtaking sea views, Bodrum's real estate market caters to diverse preferences and lifestyles.
Investing in these citizenship approved apartments in Bodrum goes beyond property ownership; it grants access to Turkish citizenship. This unique advantage makes Bodrum an appealing destination for global investors who wish to establish a permanent connection with this picturesque region.
Moreover, the real estate market in Bodrum offers substantial investment potential. The town's strategic location, thriving tourism sector, and burgeoning cultural scene make it a compelling choice for those seeking property appreciation and lucrative rental income.
Imagine owning an apartment in Bodrum, where you can wake up to stunning Aegean vistas, relish the delectable Turkish cuisine, and immerse yourself in the region's rich history and culture. Owning a citizenship approved apartment in Bodrum isn't just a financial investment; it's an invitation to embrace the laid-back coastal lifestyle and become a part of this extraordinary town.
In summary, Bodrum's real estate market shines with its citizenship approved apartments, offering investors a prestigious gateway to Turkish citizenship while providing an exceptional opportunity to experience the magic of this coastal haven. These apartments are more than just properties; they signify an introduction to a new life in Bodrum, where modern living meets timeless traditions, and your future as a Turkish citizen begins.

Yildirim Ozden
Managing Director