Cheap Apartments in Izmir
In Izmir, you'll find a selection of budget-friendly apartments that provide an economical way to enjoy the city's vibrant lifestyle. These cheap apartments in Izmir offer not only affordability but also convenience, allowing you to immerse yourself in the city's rich culture and beautiful surroundings.

Best price guaranteed
Hot offer
For Residence Permit
With Installment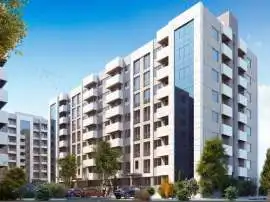 2+1 85 - 115 m2
3+1 120-176 m2
Installment up to 2 years, down payment - 25%
Spacious layouts
Central gas heating system
Basketball court, football field, tennis courts
District

İzmir, Karabağlar
Distance to the sea

6.0 km
Remaining only 4 apartments!
İzmir, a vibrant coastal city on Turkey's western edge, beckons with a real estate market brimming with cheap apartments. For budget-conscious buyers, İzmir offers an abundance of affordable living spaces.
In İzmir, cheap apartments are readily available, making it an attractive destination for cost-savvy individuals and families alike. These budget-friendly properties ensure that you can own a piece of İzmir's charm without straining your finances.
The İzmir real estate market boasts a diverse selection of cheap apartments to cater to various preferences. Whether you seek a cozy one-bedroom unit or a spacious family-oriented dwelling, İzmir offers cost-effective options that align with your needs.
Investing in one of İzmir's cheap apartments opens the door to experiencing the city's rich history, cultural heritage, and breathtaking coastal views without a hefty financial commitment.
The availability of quality, affordable housing is a hallmark of İzmir's real estate sector. These cheap apartments grant you access to İzmir's bustling lifestyle, beautiful beaches, historical sites, and friendly community without breaking the bank.
Owning a cost-effective İzmir apartment is a smart choice, offering you the opportunity to embrace the city's unique Mediterranean atmosphere while residing in one of its budget-friendly apartments.
In conclusion, İzmir's real estate market stands out as a prime destination for affordable living with its array of cheap apartments. These properties allow you to experience İzmir's cultural richness, picturesque landscapes, and vibrant lifestyle without the burden of high costs, making İzmir a desirable choice for those seeking quality living on a budget.

Yildirim Ozden
Managing Director