Cheap Property in Izmir
Izmir's real estate market features a variety of cheap properties, making it an attractive destination for those seeking budget-friendly housing options. These affordable properties in Izmir offer not only cost-effective living but also access to the city's vibrant culture, stunning coastline, and rich history.
Best price guaranteed
Hot offer
For Residence Permit
With Installment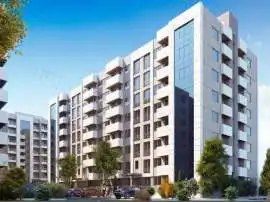 2+1 85 - 115 m2
3+1 120-176 m2
Installment up to 2 years, down payment - 25%
Spacious layouts
Central gas heating system
Basketball court, football field, tennis courts
District

İzmir, Karabağlar
Distance to the sea

6.0 km
Remaining only 4 apartments!
Izmir, a city known for its rich history and vibrant culture, offers a real estate market where cheap properties take center stage. In Izmir, owning a piece of this captivating city is not just a dream but an exceptionally affordable reality.
The Izmir real estate market proudly showcases a wide array of cheap properties, proving that you can embrace the Aegean lifestyle without straining your budget. Picture yourself in a charming apartment with views of the azure Aegean Sea or a cozy house nestled in one of Izmir's welcoming neighborhoods – all at prices that won't break the bank.
Investing in Izmir's cheap properties means immersing yourself in a city that seamlessly blends the allure of the past with the vibrancy of the present. From strolling through ancient streets filled with history to savoring delectable dishes at local eateries, Izmir offers an affordable way to experience the Aegean's unique charm.
Moreover, Izmir's real estate market is not only cheap but also presents a promising investment landscape. The city's growing economy and popularity among tourists ensure that rental properties remain in high demand. This translates to an excellent opportunity for property owners to generate rental income, making your investment in Izmir's cheap properties even more attractive.
The affordability of Izmir's properties extends beyond the initial purchase. The cost of living in Izmir is notably reasonable, allowing you to enjoy your daily life without financial stress. From dining out at local restaurants to exploring the city's many attractions, you'll find that your budget goes a long way in Izmir. 
Favorable combination of affordable properties and a cost-effective lifestyle makes Izmir an enticing destination for those seeking a harmonious blend of culture, history, and affordability. In Izmir, cheap properties are just the beginning of a truly fulfilling Mediterranean experience.
In conclusion, Izmir's real estate market stands as a testament to the affordability of properties in this enchanting city. Whether you seek a permanent residence or an investment opportunity, Izmir offers an array of cheap properties that cater to your needs. With a rich cultural tapestry, a thriving economy, and the Aegean Sea as your backdrop, Izmir welcomes you to embrace a Mediterranean lifestyle that doesn't strain your finances. In Izmir, cheap properties make dreams of coastal living come true.

Yildirim Ozden
Managing Director