Cheap Property in Alanya
Discover incredible value with cheap property in Alanya, where affordability meets the beauty of the Turkish Riviera. These budget-friendly properties in Alanya provide an excellent opportunity to invest in your dream coastal lifestyle without breaking the bank.
With Installment
With sea view
Cheap
With pool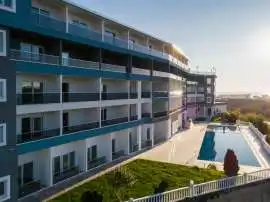 Down payment 50%
Outdoor pool, jacuzzi
Fitness and sauna
Cafe-bar on the terrace, restaurant
District

Alanya, Kargıcak
Distance to the sea

2.0 km
Pool

Open
Remaining only 4 apartments!
Nestled along the picturesque Turkish Riviera, Alanya boasts a real estate market where cheap properties reign supreme. When it comes to affordable living without compromising quality, Alanya emerges as the ultimate destination.
In Alanya, the term "cheap properties" isn't synonymous with compromising on value. Here, you'll discover a plethora of budget-friendly real estate options that harmoniously blend affordability with modern amenities and strategic locations. This means that you can relish the Alanya lifestyle without denting your bank account.
Investing in cheap properties in Alanya unlocks the doors to a Mediterranean paradise. Imagine starting your day with the gentle caress of the sea breeze and panoramic coastal views, all made possible by Alanya's commitment to affordability. From cozy apartments to family-friendly homes, there's a property to cater to every budget.
Alanya's budget-friendly properties translate into more than just an affordable dwelling; they grant you access to a vibrant coastal life. Savor delectable local cuisine, explore historical wonders, and immerse yourself in lively cultural events, all while keeping your finances in check. Alanya's rich history and natural beauty await right outside your door, and you won't have to break the bank to experience it all.
The cheap properties in Alanya provide an excellent investment opportunity. The city's growing popularity as a tourist destination ensures a steady demand for rental properties, which can generate a reliable income stream. Whether you're looking for a vacation home, a retirement retreat, or a smart investment, Alanya's budget-friendly real estate market has you covered. With these affordable properties, you not only secure a piece of the Turkish Riviera but also an enduring asset that can benefit your lifestyle and your financial portfolio. In Alanya, cheap properties offer the best of both worlds - a beautiful coastal home and a promising investment venture.
In conclusion, Alanya's real estate market proudly offers an array of cheap properties, debunking the myth that coastal living comes at a hefty price. These affordable options not only make the dream of owning property in Alanya a reality but also ensure that you can fully indulge in the Mediterranean lifestyle without emptying your wallet. In Alanya, cheap properties are the key to unlocking the full potential of coastal living.

Yildirim Ozden
Managing Director