Land For Sale In Istanbul
Istanbul is arguably the jewel of Turkey. It's a whirlwind of adventure, romance and steeped in historical relevance. Many people visit Istanbul to experience the best of the country, but plenty of others are realizing that there's a lot of value to living in gorgeous Istanbul.
Both local and foreign investors are realizing that there's a lot more to Istanbul than meets the eye and that buying land in Istanbul is an investment worth taking seriously. When you buy land, you are able to control what kind of structures you build and execute the entire process yourself. The sky is the limit! Furthermore, since Turkey is right on the edge of exploding into international popularity, you'll be able to rent out your home to tourists during the high season.

Why Invest In Land In Istanbul?
While there are plenty of villas, apartments, and homes to rent and buy in Istanbul, having your own piece of land is a uniquely fun experience that you'll come to cherish. You can build anything that you would like, down to the specifics of layout and design. Creating your dream home is a project like no other, and Istanbul is the epicentre of Turkey, so it's completely logical that you should build your home there.

There's also a buyer's market for Turkish land. The investment that you make in Istanbul now will pay off huge dividends in the future.

Why Is Istanbul So Amazing?
Istanbul is a city with an important past and a glorious present. It's the cosmopolitan hub of Turkey, and you can find everything that you'd expect out of a world-class city in Istanbul. Straddling Europe and Asia, Istanbul combines the best out of both cultures. It's rapidly becoming more and more popular with travellers, which is why this gorgeous city is one of the best places to invest in land worldwide. You really can't go wrong!

What Is There To Do In Istanbul
It doesn't matter what you're into, there are plenty of incredible things to do in Istanbul. We've compiled a list of the most popular attractions, but there are many hidden gems on every street corner as well.

Take A Cruise
You can see brilliant Istanbul from the water with a Bosphorus cruise. The river cuts right through the heart of one of the oldest districts in Istanbul and offers fabulous views and great photo opportunities. There are plenty of different types of cruises that you can take, including a stunning sunset cruise that lets you see Istanbul in its full glory.

Visit The Grand Bazaar
Visitors to the Grand Bazaar can sharpen up their haggling skills and get a taste of traditional Turkey. The Grand Bazaar is absolutely huge, with sixty streets of shopping, plenty of dining options and quite a bit of beautiful architecture. The Grand Bazaar is really the bustling, beating heart of Istanbul and it perfectly illustrates why this city is so mesmerizing.

The bazaar is also a great place to pick up all sorts of unique souvenirs. It's touristic, while still being far from a tourist trap.

Hagia Sophia
The Hagia Sophia is one of the most beautiful buildings in the world. When you buy land in Istanbul, you have the Hagia Sophia right in your backyard. The Byzantine-style architecture in the museum is absolutely breathtaking. It's one of the many architectural wonders of Istanbul, and arguably the most impressive.

Places To Buy Land In Istanbul
Istanbul itself has no shortage of places to buy land, and you can choose your plot based on personal preference and taste. The more touristic areas near the hub of the city are much more competitive in terms of price. There are plenty of options in the suburbs and more rural parts of Istanbul that surround the city. Ultimately, you can get a good, fair price on land at the moment. Whether you decide to live there yourself or rent out your property to visitors is up to you.

What Is The Benefit Of Foreign Investment In Istanbul?
Foreigners who want to obtain Turkish citizenship should consider investing in land in Istanbul and other areas of Turkey. It's far easier to get citizenship when you make a serious commitment to putting money back into the local economy, and purchasing land is one of the best ways to do that. Tolerance Homes can help you with the process, and you'll be well on your way to spending your golden retirement years living in lovely Istanbul.

General Land Investment In Turkey
If Istanbul is too much of a big city for you, there's also plenty of other areas of Turkey where you can invest in land. The beauty of Turkey is that it offers something for just about every price range and taste. You can invest in property near the gorgeous Aegean Sea, or high up in the mountains. Just as with your investment in land for sale in Istanbul, the path to obtaining a permanent residency in Turkey will be far easier if you show that you are committed to giving back to the country. By employing local labourers to construct your home, and putting money back into the economy, you will be in a far better position to be able to argue that you will continue contributing.

Istanbul is one of the best places in the world to invest in land. Since it's a buyer's market right now, you will be able to get a great return on your original investment. Consider making a move that will net you tremendous benefits in the future, either through rental income or by selling it for a much higher price in the future. Many local and foreign investors are scooping up property in Istanbul and other parts of Turkey. It's a smart move and you'll probably make up your initial investment in just a few years.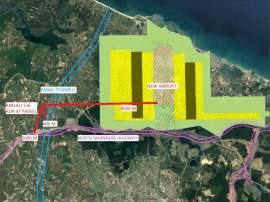 Plot of land with high investment potential
Just 400 m from the Channel "Istanbul"
North Marmara Highway - 2000 m
District

Istanbul, Arnavutkoy, Baklali
Distance to the sea

6.0 km