We are carrying on introducing you to Antalya's best districts and answering your questions about the most affordable districts to purchase property in, where the best place to invest in is and where the best projects currently being built are.

Kepez, Antalya a full review of the Kepez district is the topic of today's video. 
If you are thinking of purchasing property and affordable housing in Antalya, and Kepez specifically, our video is perfect for you! 
So, Kepez is located in the northern part of Antalya, neighbouring districts such as Konyaalti, Muratpasa, Dosemealti and Aksu, and it covers quite a large area with a population of 575,000. 

It is a rapidly developing district that combines in itself old traditions and customs with new and modern technologies, more housing being built each day and developed city infrastructure. 

Kepez is exactly where you will be able to find budget-friendly properties, with the best price/quality ratio, because land in Kepez is relatively cheap, significantly cheaper than it would be in Lara or Konyaalti. 

Right now, for example, there is practically no land left to build on in Lara and Konyaalti, which is not the case in Kepez, as you can see. 

This is why Kepez is a rapidly developing district of Antalya, with its modern residential complexes, supermarkets, hospitals, schools, playgrounds and parks. 

Where in the past it was not nearly as popular as Lara and Konyaalti, now it has changed completely and is becoming more and more modern every day. The times where there were only self-built with poorer housing are all in the past now. 

This is why there are more and more foreign property buyers who prefer to purchase right here in Kepez. 

The transport system in Kepez
The transport system is very convenient in a way that any neighbourhood of Kepez is connected with the city centre, the beaches, the airport and any other city attractions like the exhibition centres or any shopping malls. 
For example, getting to the beach from the southmost part of Kepez is only a couple of kilometres and only takes about 10 mins when travelling by bus. The same goes for the old town when using trams. 

Reaching the airport takes about 30 mins by taxi or around 40-50 mins on a bus. 

In the south part of Kepez is where the bus terminal Otogar is located, from which you can catch a bus and see the beautiful coastal towns of Kas, Kalkan, Fethiye, Bodrum and of course any other big city in Turkey like Istanbul and Ankara. 

Medical system
In 2016, the now biggest state hospital opened its doors in Kepez, and to give you an idea of its sheer size, just its emergency wing alone spans over 5 floors. 
Aside from the state hospital, there are also multiple private clinics in Kepez such as OFM, Akdeniz Sifa, Memorial, which is the best private hospital in Antalya, as well as an ophthalmological hospital called Dunya Goz. 

It is very often that we get asked about properties in Kepez. Despite some of the negative opinions you might hear from people about Kepez, we as a real estate agency would definitely recommend you purchase an apartment in this district. 

The biggest and prominent construction companies are building complex after complex. Prices for ready apartments here start at 30,000 Euros for 1+1 apartments and 35,000 Euros for 2+1 apartments. 

You couldn't dream of finding something for that price in Lara or Konyaalti. 

Moreover, there is practically no land left to build on in the districts closer to the beach, whereas in Kepez construction is expected to be booming for another 5-10 years, which is also why Kepez is a really good district for investments. 

There are so many interesting and promising projects that are being built here as we speak – some of which can be perfect to move to, live in and invest money in in order to be eligible for Turkish citizenship. 

You can actually follow this link to watch a video review of one of these promising projects I was talking about.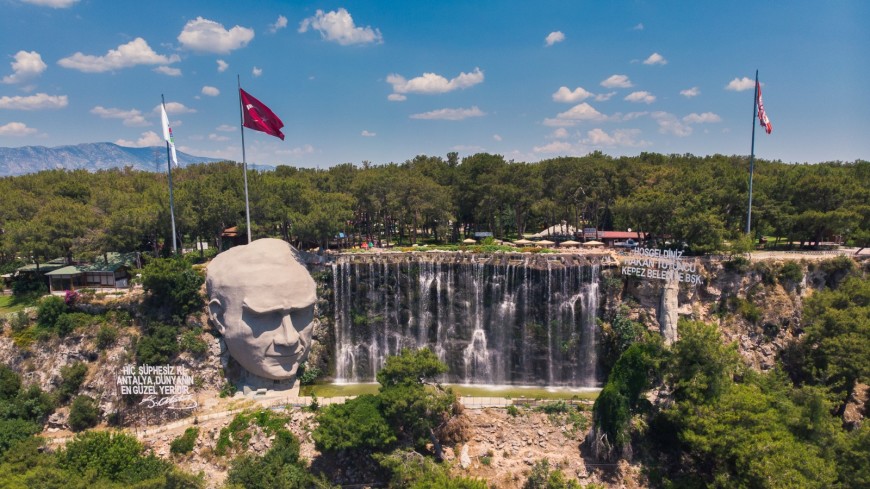 The more interesting parts of this district and places where you can spend quality time with family in Kepez
The most well-known park in Kepez is of course the zoo with the massive land it covers, with a pine tree forest, a picnic zone and of course the places where the animals are kept in conditions as close to their natural habitat as possible. The entrance fee is only 10 Liras which is just over 1 dollar, or 20 Liras, 2.5 dollars if you are coming in a car. 

The upper part of the Duden waterfall is also located in Kepez, and the entrance fee is a mere 6 Liras, which is less than a dollar, and during the summer heat, this is the best park to cool down and enjoy a leisurely walk with your family. 

This place is fantastic – it has the river flowing from the top of the mountains, many trees along the pathways that can cover you from the sun, and a bunch of small waterfalls that are frequently visited by locals and tourists. Along the Duden river, there are many restaurants and cafes where you can enjoy a cup of strong Turkish tea and freshly cooked fish. 

Not too far from the Duden waterfall, there is another massive family park called Kepez Belediyesi Kent Ormanı. It has many children's playgrounds, cafes, pizzerias, picnic spots, pavilions and of course the most popular place of all is the stone portrait of Ataturk that opens up the most breath-taking view of the whole city! 

TheVarsak Park, which is located in the Varsak neighbourhood of Kepez, was opened in 2013 and is now a sporting slash entertainment complex with the biggest Olympic size swimming pool 50 meters in length and enough spots for 1,500 people in the audience.
There is also a Fairy Tale Park nearby, that has figurines of the characters in popular fairy tales such as Snow White, Rapunzel, Lion King, Red Riding Hood, Cinderella and more, there is no fee upon entry. And in Varsak Park, there is also anything you might need for exercising: tennis courts, football fields, cycling paths and exercising equipment.

Shopping malls in Kepez
Aside from parks where you can relax there are also shopping malls in Kepez where you can spend some fun time. One of the bigger ones is Ozdilek Park, but aside from that, there is Erasta Mall, Bauhaus, Deepo, Mall of Antalya. They offer stores that sell the most popular brands of clothing and shoes worldwide, as well as have cafes, restaurants, kids' playgrounds and cinemas.
And in addition to shopping malls, there are also a lot of grocery supermarkets like Migros, Tansas, BIM, Sok and cafes and restaurants, a large bazaar on Saturdays where everything is sold at prices that are at least 1.5 times cheaper than at the bazaars in Konyaalti and Lara.

Schools, colleges and courses in Kepez
There are many state and private schools, as well as campuses of the Bahcesehir and Final colleges, and not far from the Kepez district there is also an English private school called Antalya ToplumKoleji, formally known as ICCA, where teaching is done in both English and Turkish.
In terms of extracurriculars, there are many study groups, sports classes, an art school called ASMEK that holds classes in Dokuma, Altinova and Varsak.

Additionally, there is the biggest children's trampoline park in Turkey called Zip Zip Park. It is very easy to spot once you reach the bus station Otogar.

Vehicle owners will be glad to hear there are a lot of car services and repair salons in Kepez in the Sutculer district.

The most interesting projects led by the city's council in order to improve the 

Kepez

 district
Examples of these include a large botanical garden, a theme park called "Anatolia Gardens", a whole street dedicated to fishing restaurants servicing seafood, a park symbolising the Turkish flag, two new indoor sporting pavilions, bicycle and scooter renting spots and improvement of the central district area in Kepez.
Come to visit Antalya and we will show you this city and help you find the best options for buying houses and apartments.  To view our Antalya City review, feel free to click here.
Subscribe to our YouTube channel, and feel free to ask your questions in the comments to always have up to date information about life, business and real estate in Turkey.