Konyaaltı, Antalya, Turkey. One of the Best District in Antalya to Live and Buy Property
Where is the best place to live in Antalya? How do you pick the best district for purchasing property in Turkey?
Why is it perspective to buy an apartment in Antalya in the Konyaaltı area? Today you can learn the answers from this description or our video below.
We will show you the Konyaaltı district - one of the best districts in Antalya and one of our most favourite districts. 

Like many other coastal cities, Antalya extends along the coastline and is mostly located between the sea and the mountains.
The city itself is made up of five big districts Aksu, Doshemaltı, Kepez, Konyaaltı and the coastal zone of Muratpaşa is more commonly referred to as Lara since it's the name of the famous beach located there.
The most prestigious places for purchasing property are Konyaaltı and Lara. Lara is an older, more business-oriented district, that houses, many offices and life their moves quickly. However, it is a bit harder to get to the beach because the district is located atop a cliff.
Konyaaltı district is greener and much quieter very convenient for life and has everything you might need. People prefer Konyaaltı both to move to permanently and to vacation there.

Konyaaltı is one of the best districts in Antalya located on the west side of the city surrounded by the mediterranean sea gorgeous beaches and green Taurus mountains.
It also has one of Turkey's best beaches the famous Konyaaltı Beach extending eight kilometres along the coast. It's a pebble beach and travelling too is very convenient. It has even been awarded the blue flag for its cleanliness.
Konyaaltı district's infrastructure
Along the whole length of the beach, there is a wonderful promenade area that is equipped with anything you might want wonderful restaurants and cafes by the beachside, a recreational area with parks and fountains for kids, wide pedestrian, jogging and cycling paths, basketball courts and many sports outdoor facilities.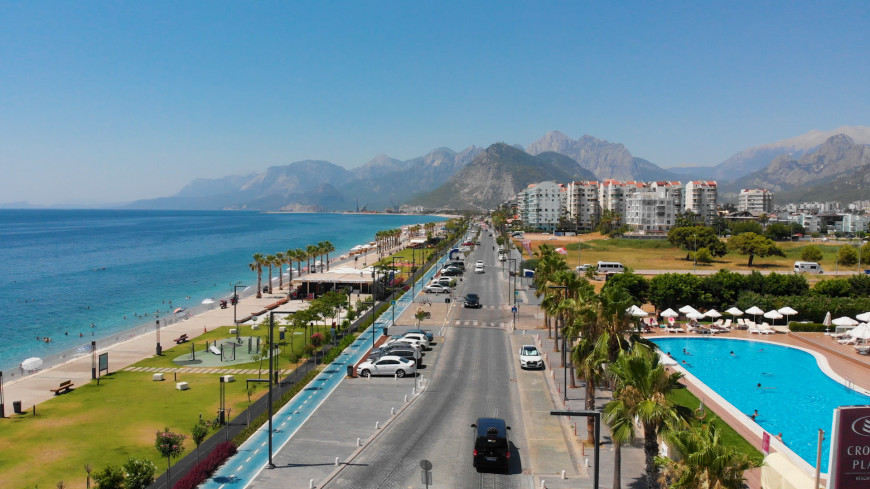 During the summer season, you can also enjoy water sports since traffic is restricted around here. Moving closer to the seaport you can enjoy a leisurely walk along the borate river, a beautiful area with children's playgrounds, parks and various other recreational zones.
The population of Konyaaltı district is around 200 000 people and it consists of 39 micro districts the most popular which are Liman, Hurma, Altınkum, Gürsu, Uncalı, Mola Yusuf, Sarısu and Arapsuyu.

Konyaaltı district's infrastructure is very well developed and it is a home to many of the city's most important buildings and attractions without which it would be very difficult to imagine modern Antalya.
Antalya's archaeological museum is one of the biggest and best in the region. A stadium and a sports complex where you can get free lessons nearby both for children and adults in various sports.
Right across from Migros there is Akturk Park Luna park which is the biggest amusement park in
Antalya
. And it also has the second biggest Ferris wheel in Europe after the London's eye called "Heart of Antalya".
Aquapark with the dolphinarium is an amazing place to visit with your children and family during a hot summer day. An oceanaire which has Europe's biggest tunnel aquarium.
Beaches of Konyaaltı
Konyaaltı beaches are mostly pebble beaches, they are perfectly clean and have a gently-sloping entry into the water. They are all marked with the prize "Blue Flag".
City beaches are free, they are well-equipped, available there are sunbeds and umbrellas. Besides, on the beaches, you can hire catamarans, go water-skiing, parasailing, as well as rent other equipment for other water sports.
Currently, the city is reconstructing the coastal zone. It will be fully pedestrian, and there will be a network of cafes, restaurants and leisure areas stretching next to it.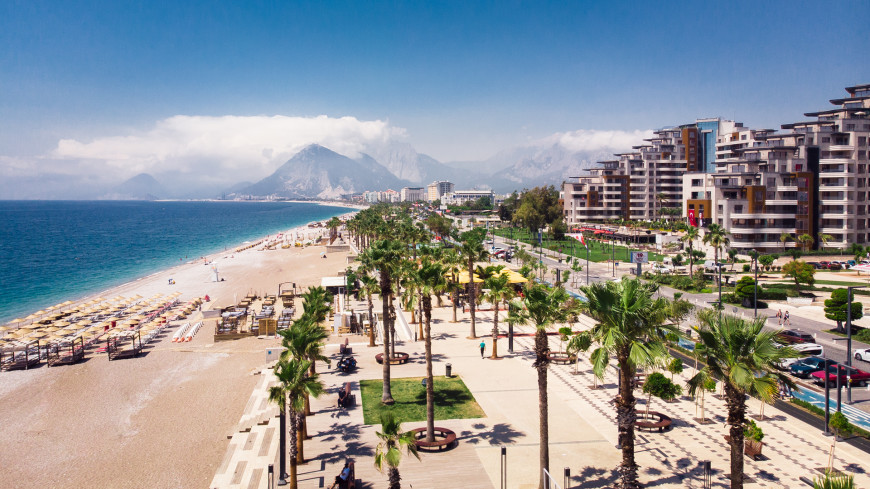 Akdeniz Üniversitesi

Akdeniz Üniversitesi is the biggest university in Antalya. It is a state university and educates both citizens and foreigners. Akdeniz Üniversitesi Hastanesi is both a hospital and research facility that employs the best and experienced professionals and specialists with the highest degrees to treat patients.

Bus station Otogar
The bus station where you'll be able to catch a bus that can take you anywhere you want in the province and in the whole country. Next to this bus station, there is a hardware store called Bauhaus where you will be able to find anything you might need for your new home. Migros 5M shopping centre which is a great mall that is frequently visited both by locals and Antalya's tourists.
Hospitals
A free state hospital in a research centre called Antalya Devlet Araştirma Hastanesi treats its patients even foreigners for free given that they have a residence permit to live in Turkey.
Nature and parks in Konyaaltı
The Konyaaltı district is famous not only for its beach but also for its incredible nature. 

You will be able to find green pine forests and little cozy villages that both Turks and foreigners like to visit. They come here to enjoy the famous Turkish breakfast experience to spend quality time with their family. The big buyer area also has world-famous training camps for rock climbing where people from all over the world come to train.
Ataturk Kultur Parki which is Antalya's biggest park that houses an exhibition centre called Cam Piramide, a concert hall and a good tennis club named Attic.
Konyaaltı has many cafes and restaurants to suit any taste preferences. 
At the end of Konyaalti near the mountains, there is a docking station for broughton yates de tour marina a free trade zone and a port. This is also where you will find the funicular cableway that can take you up to the top of the mountains in the cabin one that opens a stunning view of the city.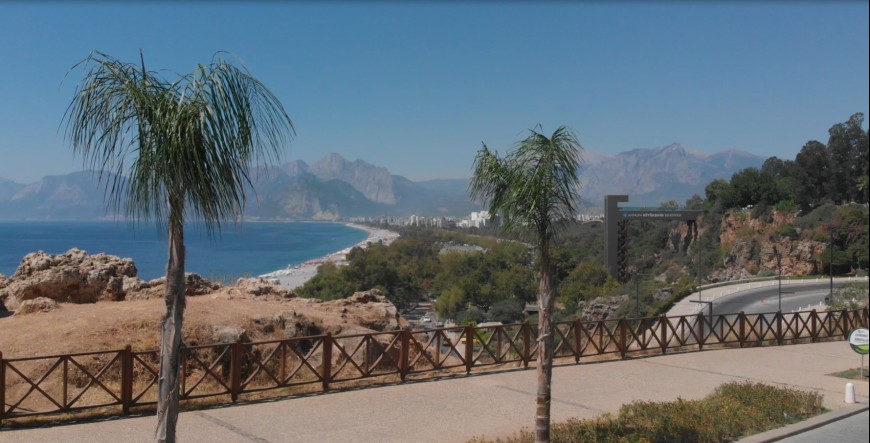 The transport system
The transport network of Konyaalti is well developed, it is all covered by bus routes. A special bus service delivers arriving passengers from Antalya airport to the eastern part of the district. Konyaalti has a big pier for private yachts and cruise ships.
International groups
What else attracts foreigners to Konyaalti in Antalya? It's home to a large international population with many activity groups and clubs available in many different languages where both parents and their children can socialize. You will surely be able to find someone from your country.
Real estate and purchasing property in Konyaaltı
The reasons why thousands of foreigners when buying property made their choice in favour of Konyaaltı:
- proximity to the sea, a large number of houses with direct access to the sea and with a sea view;
- in Konyaaltı construction market the most professional developers of Antalya work;

- almost all the residential complexes have a pool, sauna, fitness, round the clock security and video;

- surveillance; it is a kind of a standard for the district;
- the best management companies of Antalya are engaged in residential complexes in Konyaaltı;
- a wide choice of options – from small area apartments to luxury penthouses, interesting layouts;

- Konyaaltı residential complexes are located on large plots of land, which allows equipping own gardens and gazebos for each complex;
- Konyaalti offers a rich selection of premium class residential complexes with infrastructure not inferior to five-star hotels;
- real estate in this district can generate a stable annual income from rent;

- real estate in Konyaaltı has great investment potential.

Subscribe to our YouTube Channel to always receive up to date information about Turkey straight from professionals!
Always Yours,
Tolerance Team