Altıntaş Antalya I Full overview 
Increasingly our clients and subscribers have been asking us about the new and as yet unfamiliar area of Antalya, Altıntaş.

Which neighborhood is it? Where is it located? Is it worth living and buying property in Antalya?
How far is it from the beach and the sea? What about its infrastructure? How is it developing? What are its main pros and cons? Is it really worth it to buy property in Altıntaş now?
The most comprehensive review of the Antalya Altıntaş neighborhood, which you will not find anywhere else!
Before I tell you about the neighborhood, I will share a secret with you.  

A map of this neighborhood first appeared in our office 1.5 years ago, for already then, when many people had not even heard of this area, its prospects and its future were obvious to us. But even we didn't expect it to develop so rapidly!
It really is one of Antalya's most promising future neighborhoods and we'll tell you why is this.  

By the way, if you are thinking about buying property in Turkey and you don't know about Antalya yet, you can see our full review here! So what is the area of Altıntaş in Antalya? What is it interesting and what is its perspective?
 Altıntaş is located in the east of Antalya. It is part of the Aksu district. The name of the area, Altıntaş, can be translated as the 'golden stone'. The district borders Antalya Airport to the west, Güzelyurt district to the north, Mandırlar district to the east, and Ermenek and Kundu district to the south.
 The Altıntas area is 9.3 square kilometers and the population at the beginning of 2022 is approximately 10,000 inhabitants.
The distance to Antalya Airport is just 1.5 km and it's one of the biggest pluses moreover. After all, Antalya Airport is the largest airport after Istanbul in Turkey, providing convenient and daily connections to many countries around the world, especially Russia and Europe.  

Only in 2019, it welcomes more than 35 million passengers. And that means you can always get to Antalya from anywhere in the world very quickly and easily

And don't be intimidated by the proximity - the Altıntaş neighborhood runs parallel to the airport, which means you won't get any noise from aircraft as they do not fly over the neighborhood but land or take off along completely different paths.
However, from many viewpoints in this area, you'll be able to enjoy a spectacular view of planes landing or taking off against the setting sun and the mountains.
The excellent view of the mountains in the distance is one of the area's great assets.
One of the important advantages of Altintash is also its proximity to the sea and the town itself. The distance from Altintash to Lara and the famous shopping center Terra City, for example, is only 7 kilometers.
Mall Of Antalya is 4.5 km away, Agora Shopping Centre, Ikea and Metro 6.5 km, the famous Düden Waterfall for instance 4.5 km.
The distance to the area and the beaches of Lara and Kundu is just 2.6 kilometers from the lower end of the area and 7.5 kilometers from its most distant point.
The famous sandy beaches of Lara and Kundu are the holiday destinations of Antalya, for holidaymakers who love clean sea and sand. Their length is more than 5.5 km!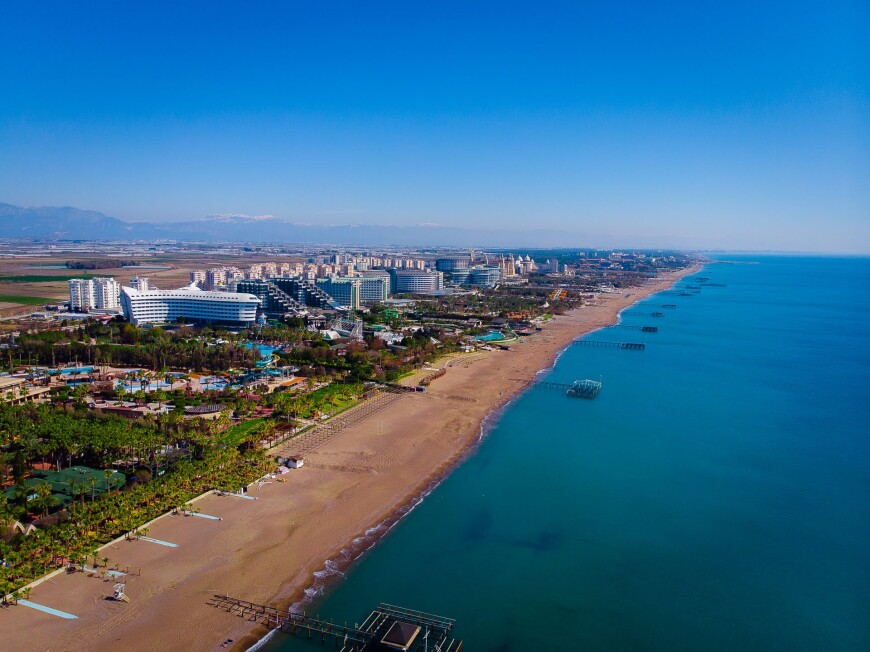 These easy-going beaches have been awarded a Blue Flag for their cleanliness. There's a promenade along the entire beachfront with restaurants and cafes, walking tracks, and seating areas, and the beaches themselves are equipped with sunbeds and umbrellas.
So what other features does the neighborhood have to offer?  
There are more than 120 luxury 5-star hotels, located within 5-20 kilometers of Altıntaş. Of these hotels, ten have made the top 100 hotels in the world.  
The Land of Legends, Turkey's biggest theme park of entertainment, is also just 20 km away, with a huge water park, restaurant area, chic nightlife, and shows.
Although Altıntaş is only a developing area, its residents benefit from all the necessary urban infrastructure of the neighboring Muratpasha and Aksu districts.
Thus, modern clinics such as Medical Park, 8.5 km away, and Lara Anatolia Private Hospital, 3.5 km from the western border of Altıntaş, can be found in close proximity.
There are many educational facilities nearby such as lyceums and schools, one of them being the international private Russian language school in Lara, which is very important to many families who come here with children!
Altıntaş has excellent transport links with easy access by bus to the city center and airport as well as to the beaches of Lara.
One of the most recent additions to the development of Altıntaş is a modern up-to-date neighborhood. 
The perspective of the region's development
For this reason, it is the only neighborhood in Antalya with a building permit and lots of plots are still available for development.
These are not small plots of land as in the city center or other areas - they are large plots of land on which to build spacious apartment complexes with a developed infrastructure, in which to live comfortably and prestige.
Due to the high demand forproperty in Antalya, there are ahead of any other districts in the city that are so close to the sea and at the same time have such modern construction opportunities.
Konyaalti, as many have said and which we have reviewed here, is already fully built up and there are hardly any interesting new developments to be found. 
Prices in neighborhoods in Konyaalti are already very high and not everyone can afford to buy here.
This is also true for Lara and Muratpasha districts, which we have reviewed for you before and which you can see here. Lara also has no longer land to build on and has almost no new housing developments to offer to its buyers.

The Kepez districts you can watch here are much younger, actively build up now, and has many interesting projects, but unfortunately, it is located too far away from the sea and that does not suit everybody. Therefore more and more property developers in Antalya are turning their attention to the Altıntaş neighborhood, rightly considering it a very promising area with a great future.
How is it interesting and profitable to you - potential buyers, residents, and investors in real estate in Antalya? 
One of the biggest pluses is that some very interesting projects are beginning to be built here which, until now, simply haven't existed in Antalya.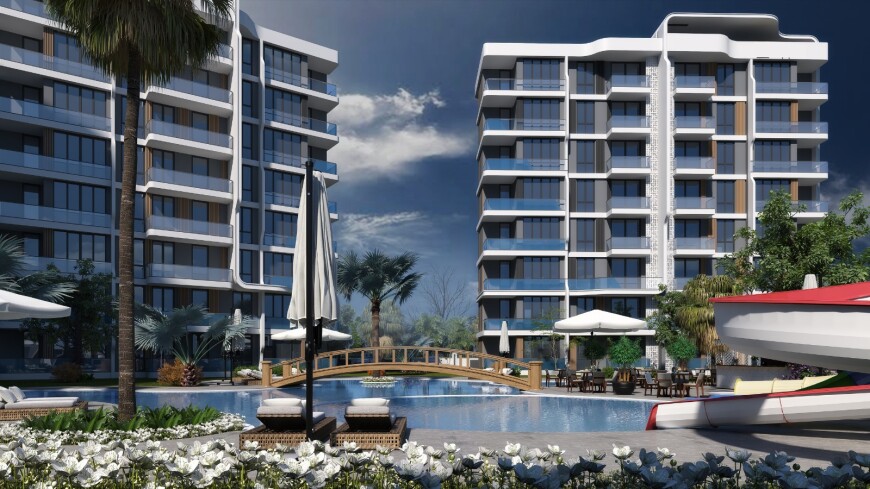 These are not the usual standard houses with pools and we have gotten used to them in the Konyaalti and Lara areas.
These are state-of-the-art complexes with a developed infrastructure and design, which are built with the most advanced technology.
Many of these complexes in Altıntaş have not only large landscaped areas but also swimming pools, both outdoor and indoor, playgrounds and water parks, spa and fitness centers, reception and lobby - in the short, everything that distinguishes modern projects from older developments and that makes living in the convenient and comfortable.
Many of these projects are designed by leading architects in Turkey, who are creating future landmark locations for living or investing.
A future buyer will also benefit from the fact that these projects will compete with each other in both price and quality. 
Another important benefit of this area is that the development plan is for the first time not created by the local administration, as usual, but by the Municipality of Antalya  Province.
Thus, both residential and commercial buildings were designed from the outset, and parks, schools, hospitals and kindergartens, and sports centers were sensibly planned in order to make the life of the people here comfortable and convenient in the future.
The city-approved development plan can be seen here or downloaded by clicking on the link.
Many may say that the area is still very undeveloped, and it's true! That's because it's a district that is just beginning to develop!
But that's the point of smart investing and buying - choose areas that have excellent prospects for the future! Of course, if that is your goal.
Let me give you one real-life example. Over 15 years ago, when we opened our office in Konyaaltı in Antalya, the area was still very new. Many people in Antalya told us - what is Konyaalti? Lara is the way to go!
However, we did not just believe that, we knew that this was not the case. We had only sold properties 15 years ago in coastal Konyaalti districts such as Liman, Gürsu and Altınkum for example. We did not even go to Hurma or Sarısu!
What about now? These districts are worth their weight in gold and Konyaalti has become the best district of the city where Turks and foreigners choose to live and where there are no more places to build and where property values have grown a lot!
The same is waiting for the Altıntaş area in Antalya, believe my experience and knowledge - it is only a matter of time.
To whom is the Altıntaş area suitable?
Someone who wants to buy a property in Antalya in a new, interesting development with developer-priced hire purchase.
It is the right choice for those who are thinking of investing well and for someone who is thinking of living in Antalya not just right now but in the near future. Certainly, the infrastructure is still underdeveloped and basic communications and roads are just starting to be built.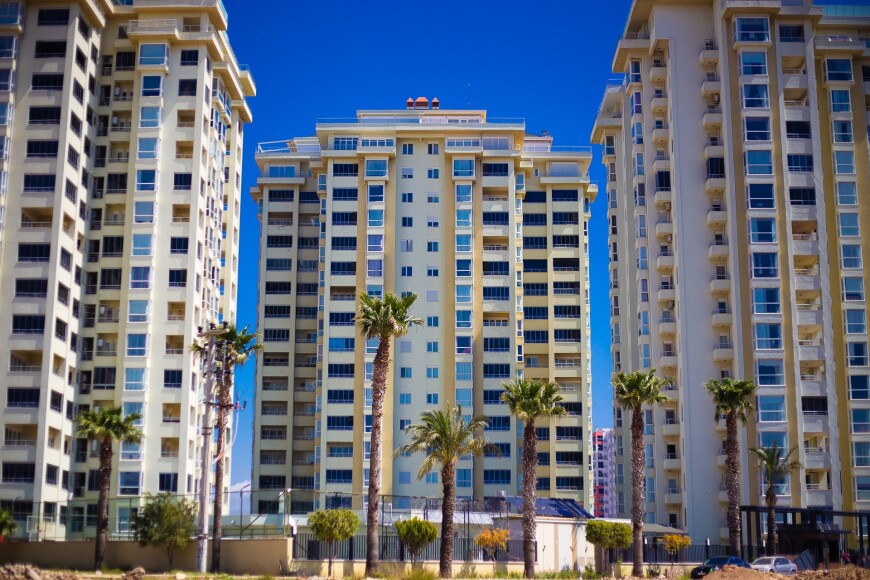 That is why buyers who want to live in Antalya right now should choose areas such as Konyaalti, Muratpasha, Lara or Kepez as example.
That is, as always, be clear about your goals and objectives and act!
Please do not forget that the main advantage that Antalya has over smaller resort towns such as Kemer, Belek or Alanya, for example, is its liquidity.
Demand in Antalya is created and sustained not only by foreign buyers but mainly by the Turks so property here will always be in demand which means liquid.
The Tolerance company. Professionalism and trust in everything we do
The Tolerance company has been working in the real estate market in Turkey for almost 20 years and we are one of the largest real estate companies in Turkey.
Our main principle is professionalism and trust in everything we do. Thousands of clients have been lucky to own a property in Turkey through us over the years.
Their feedbacks and reviews of our work, which you can see here, are our most valuable asset. 
The guiding principle of Tolerance and all our employees is to advise the client on what you would buy for yourself, certainly within their budget and requirements.  
Having our own office in Antalya gives our clients the widest choice with the lowest price guarantee.
We have a number of senior property experts with years of experience, who can help you make the right choice and provide quality service, not only for the sale, but also for any question of living and adjusting in Turkey. To us every client is our family, this is how we are used to working and living.
Our 20 years of experience and thousands of customer references prove that you can trust us to make your choice and purchase a property in Turkey as safe and secure as possible!
Our team will find the best options for you as soon as possible! You can use our free viewing tour program to choose a property in Turkey, all the details of which you can see here.

Tolerance has its own offices in Antalya and we can offer you properties in Antalya, Alanya, Mersin, Istanbul, and other parts of the country. 
Work with professionals if you want the best service, the most honest approach, the widest choice, and the best price for any property in Turkey. We were delighted to be with you and tell you about the future jewel of Antalya - Altıntaş district.
You can see our offers on our website www.tolerance-homes.com or just contact us by WhatsApp at +90 532 158 42 44.

Our team of experts will find the best deals for you in the shortest time!
Subscribe to our YouTube channel to stay updated on the most relevant events from life, real estate, and relocation in Turkey. 

We know and talk about what others don't know or don't talk about!