Antalya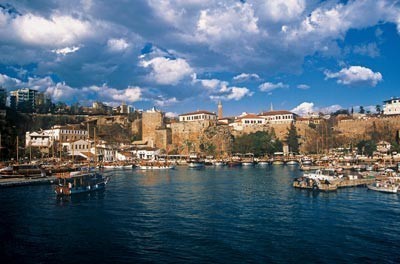 Antalya is a big resort city on the Mediterranean coast. Due to the mild climate, the holiday season there lasts from mid-April to mid-October. Antalya has all the benefits and advantages of a city whose population exceeds one million (low crime rate, good transport accessibility, cultural leisure, education, shopping, a large selection of real estate), and, at the same time, it remains very comfortable to live in thanks to the low cost of living, the friendliness of the local population and well-equipped resort areas.
Location and climate. The city of Antalya, located on the Mediterranean coast, is popular among tourists from all over the world thanks to the excellent climate and the natural landscape. Dominant in the region is subtropical Mediterranean climate, which features warm dry summers and mild winters with little rainfall. Three hundred days of sunshine a year await you, and the holiday season by the sea, at the same time, lasts from mid-April to mid-October.
The sea and the beach. It does not matter whether you are staying at a hotel or a rented apartment in Antalya, well-equipped beaches with showers, changing rooms and picnic tables, as well as cleanest sea wait for you.
Transport accessibility. Antalya is popular among foreign tourists not only owing to beautiful nature and comfortable hotels, but also owing to the transport accessibility of the city. The modern airport of Antalya, receiving daily hundreds of flights and thousands of tourists from around the world, is a unique technical and architectural construction. Experts consider it one of the best international airports in Europe.
Sights. The history of Antalya counts nearly nineteen centuries. Peoples that populated this beautiful land left behind them a lot of unique cultural and historical monuments. Most of the museums and historical sites are available year round. They help to feel the spirit of centuries, to learn how people lived in the era of the greatness of Rome, Byzantium and the Ottoman Empire, and to understand the origins of the Christian and Islamic culture.
Safety. It is officially confirmed that the level of crime in Antalya is lower than in many European cities. Antalya is one of the safest big cities in Turkey. Whether it is a late night walk around the city or a car left on the street - you won't need to worry.
Education. Families with children can safely move to Antalya for permanent residence, because there are many pre-schools and schools at which teaching is performed in English and Russian languages, as well as several universities and a wide range of colleges. You won't have to worry about high or professional education for your children.
Culture and traditions. People in Antalya show enviable tolerance and kindness towards representatives of other nations and religions. Many of those who visited Antalya noticed the friendliness of the local population, Turks' interest in other cultures and traditions and willingness to help if a tourist is in a quandary.
Cheapness of life. Fresh fruits and vegetables are available in the markets of the city all year round at low prices and amounts in bills for electricity, water and other household services are often significantly lower than in Europe and in Russia. The cost of such services as repairs, hairdresser's, car rental, etc., remains lower than the European average, and the quality is constantly increasing.
Advantages of a big city. The population of Antalya counts more than a million people, and in the tourist season – from one and a half to two million. Antalya has its own city theater, opera, several exhibition centers, and a constantly expanding network of multiplex cinemas. In recent years, modern shopping centers appeared in Antalya, where you can enjoy shopping, restaurants, as well as the latest movies (they are shown in English and Turkish), and also take your children to amusement rides.
Real estate in Antalya. During the past fifteen years, there has been a steady demand for real estate in Antalya from foreign citizens. That gave an impulse for the development of the construction business in the region, which allowed to implement many construction projects, from individual economy-class houses to prestigious luxury-class residential complexes with five-star hotel infrastructure.
Antalya - description of areas