Mersin Turkey | Living Advantages, Mersin districts, and apartments in Mersin
Mersin - the most comprehensive and detailed review of the city.
Detailed information about the climate, location, history, population, infrastructure, education, the seaside and beaches in Mersin, kindergartens, schools, colleges, hospitals, and universities.
Let us tell you about the greatest parks and recreational areas in Mersin, where to do sports, which courses are worth taking, and where to have a great vacation.
Surely it will be useful for those who are considering buying a property in Mersin and don't want to be wrong in choosing a region!
Mersin can be easily named a nugget not yet explored by most people, it just needs a short time to turn into gold and to stand on a par with such popular and already known regions such as Antalya or Alanya.
It is indeed a very up-and-coming region in which you can find excellent real estate properties close to the seaside, at an affordable cost.
Mersin is a major district centrally located in the southeast of Turkey, on the shores of the Mediterranean Sea, and is ranked as the 11th most populous region in Turkey.
The history of the region goes back thousands of years - the first human settlements were found in an area called Yumuktepe, they were established more than six thousand years BC.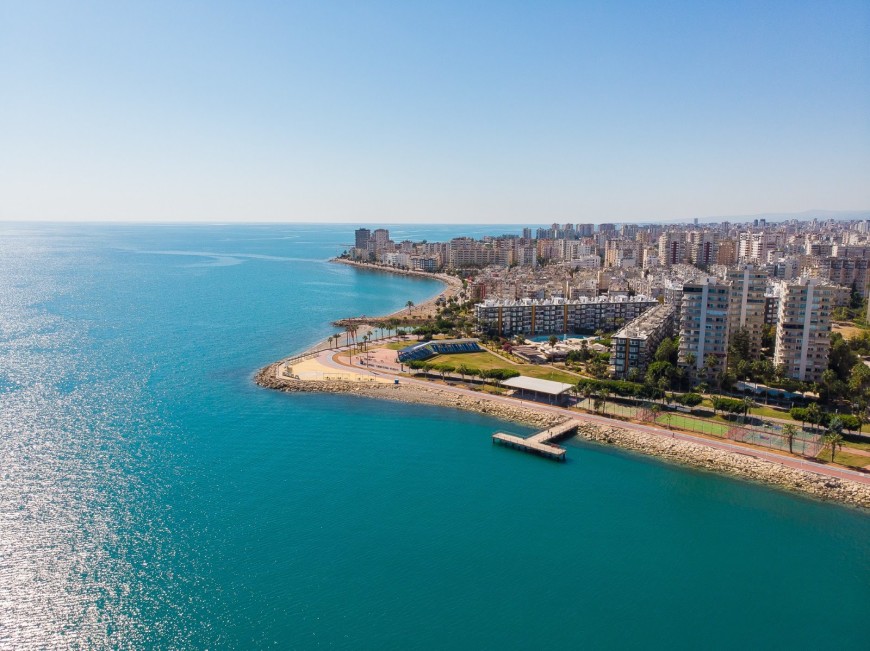 Mersin is one of the biggest port cities. With its mild climate, the resort period lasts from mid-April to mid-November.
Initially, Mersin as a resort city was known only by local inhabitants, but year by year it is becoming increasingly popular among foreign travelers and real estate buyers. Mersin attracts not only by its warm climate, marvelous clean sandy beaches, and rich cultural heritage but also by its quite pleasant low prices for real estate and life here, which is no less important.

Meanwhile, the planned opening of the Çukurova Airport at the end of 2022, only 42 kilometers from the city, will be another tremendous effort to develop international transport links, thereby increasing the number of tourists and residents here.
Nowadays, you can get to Mersin from Adana Airport, which is located seventy kilometers from Mersin proper.

So, what is so very special about this city, what benefits does it give to its visitors and the people who live here all the time?
One of the main benefits of the city is its Mediterranean climate.
Summers in Mersin is hot, and in winter temperatures are rarely below +10. It is often said when describing Mersin that the sun shines there 300 days per year. This is indeed true. The numerous warm days of sunshine give people and tourists wonderful weather and a prolonged swims season.
Mersin's unique geographic position deserves a reference as well. The city is bounded by the waters of the Mediterranean Gulf of Mersin to the south and the Taurus Mountains to the north.
Mersin is one of the most seismically safe cities in Turkey. From the city, you can get to any region of the country by train or highway.
The seashore and beaches of Mersin. The seafront
In the heart of Mersin, there are few beaches for swimming. The closest beaches equipped with showers, cabins, and cafes are in the area of Soli and Çeşmeli.
But here is an excellent seafront for walking, one of the best seafront promenades in Turkey. Right on the promenade is the famous Marina - a yacht port area, recreation, and shopping zone, so loved by both locals and foreigners.
Most tourists and locals prefer the beaches in Erdemli and Silifke districts, namely Kızkalesi, Ayaş, Susanoğlu, Akyar, Yapraklı Koy and Narlıkuyu for swimming.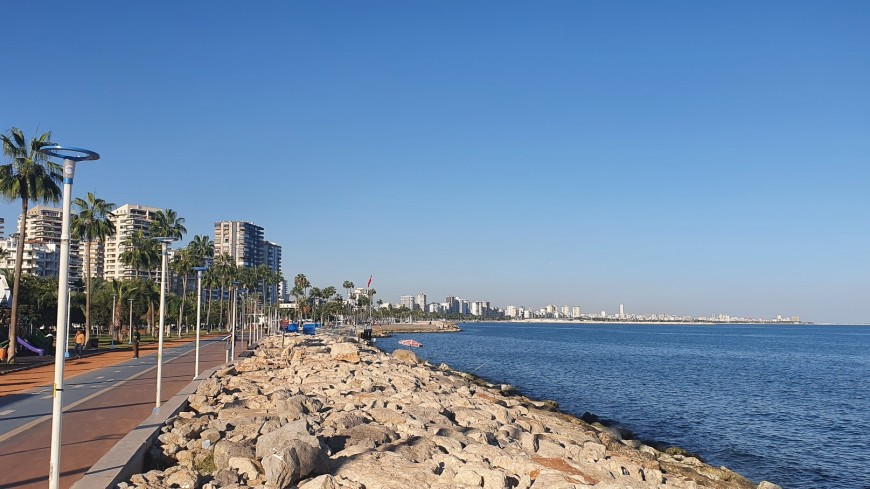 Narlıkuyu is one of several bays on the entire sea coast of Mersin. However, the water here is cool and fresh due to the underwater stream that is located here. During hot summer days swimming in the cool waters of Narlıkuyu is very pleasant and refreshing.
There are a lot of fish restaurants in Narlıkuyu that also attract tourists and locals. Although the famous beaches of Mersin are situated at some distance from the city center, there are ferry rides almost every day in the summertime.
Transport accessibility
Not far from Mersin, the construction of the Çukurova International Airport is still in progress.
The Çukurova International Airport is still under construction near Mersin. The first phase is planned to welcome passengers by the end of 2022.
Currently, Mersin can be reached from Adana Airport, located 70 km from Mersin proper.
To get from Adana to Mersin, tourists and locals use Havaş, the most comfortable and fastest intercity bus which will transport you to any location in Mersin directly from the airport.
At the moment, the transfer from Adana to Mersin will take about 2 hours, much faster than the trip from Antalya to Alanya, for example. On the way from Adana to Mersin, the bus stops at Tarsus.
By car, you can reach Mersin via the Highway in approximately 1 hour and 10 minutes.
As soon as Mersin's new airport will be open, the trip from the airport to the city proper will only take 30-40 minutes.
Let us remind you that Mersin is Turkey's major harbor, which hosts ships from hundreds of international ports, and therefore the City is open for business and commerce.
Several times per week there are ferries from Mersin to Northern Cyprus. Everyone who wants to visit the Northern part of Cyprus can use this wonderful opportunity.
The internal public transport infrastructure is also very convenient.
Small 'dolmush' buses are available to get from Mersin to any area of beach along the seashore. All services are operated in accordance with a regular timetable and a single system of payment by Mersin Card or bank cards is in use everywhere.
It is also necessary to mention the presence of a new bus station in the city. From here you can get to any city in Turkey. The bus station is full of small souvenir stores and various cafes.
Speaking about public transport in Mersin, we should also mention high-speed intercity trains, which can be simply used to get to nearby cities.
Cost of living and organic year-round goods
First of all, it should be emphasized that Mersin is the leader in terms of Turkish exports of fruits and vegetables, and this explains the affordable prices and quality of products.
Even within the city borders you can see citrus trees and observe the blossoming of lemons, oranges, and tangerines.
Fresh fruits and vegetables are available in the city markets all year round at a lower price than in Alanya, Antalya, or Istanbul, for example.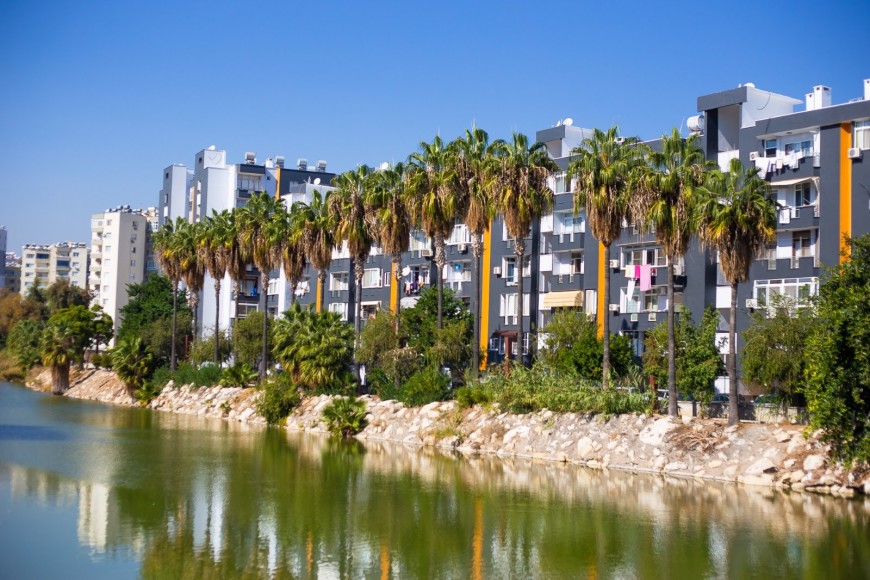 The cost of services such as maintenance, hairdressers, car rentals, etc., is still much lower than the European average.
The cuisine and restaurants in Mersin are known traditionally far beyond its borders. The average bill for a meal in a local restaurant will be several times lower than the bill in Istanbul or Antalya.
So, living in this city is not only comfortable but also inexpensive!
Privacy of life, family and children
Speaking about the safety of Mersin, we should again emphasize the fact - this city is located in the zone of lowest seismicity. Among the population of Turkey, Mersin is considered one of the safest cities in Turkey in this matter.
The locals are friendly and hospitable, so in Mersin, you can feel safe and feel free to enjoy the streets and promenade of the city at any time!
Do not forget that Turkish people are responsive, and it means that you will always be welcome and will never abandon in trouble! Foreigners who live in Mersin have traditionally honored its traditions and culture.
Education
Families with children can safely move to Mersin as there are many free public schools where foreign children can study as well as a large number of high-level private schools that offer the best education for everyone.
There are private schools in Mersin as well, where education is partly in English.
A big plus in the field of education in Mersin is also the presence of a large public university and a campus called Mersin Üniversitesi, where you can educate your child very well!
There are 17 faculties with more than 40,000 students, and more than 2,200 of them are international students.
Education there is both in Turkish and in English.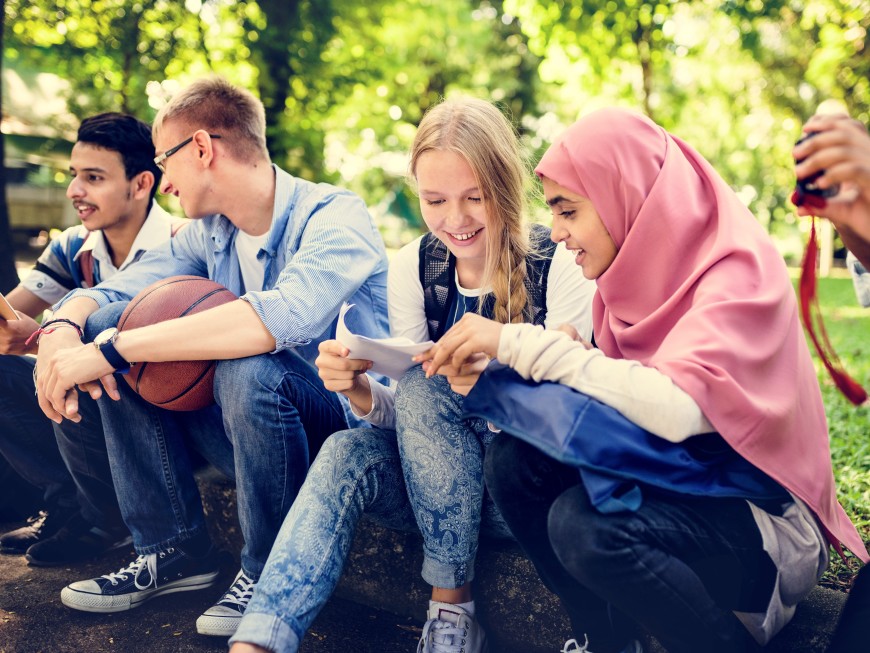 By the way, foreigners can also enter this university and study almost for free under a special program by passing an exam called YÖS. This exam does not require a high knowledge of the Turkish language, and this is also a definite plus.
Another state university, called Tarsus Üniversitesi is located near Mersin in the municipality of Tarsus. In addition to the state university, there is a private university in Mersin called Toros Üniversitesi.
Another private university, called Çağ Üniversitesi, is located between Tarsus and Adana.
Mersin also has a lot of top-level kindergartens, both public and private.
A plus will be available "developmental" for preschool children in English.
Medicine in Mersin
Mersin has many large state and private hospitals, clinical centers and private clinics.
Most recently, in 2017, Mersin has finished the construction of a high-level state hospital with the most modern equipment, called Şehir Hastanesi, a very comfortable and highly professional hospital.
There are several other state hospitals in Mersin as well, such as Mersin Devlet Hastanesi, Mersin Toros Devlet Hastanesi, Mersin Üniversitesi Sağlık Araştırma Ve Uygulama Hastanesi University Hospital, and Erdemli Erdemli Devlet Hastanesi State Hospital.
Apart from state hospitals, Mersin has many high-level private hospitals such as Medical Park, City Hospital, Özel Mersin Yenişehir Hastanesi and others.
Having a residence permit in Turkey, you can get state insurance called SGK and by using it, you can get free treatment in state hospitals. The same insurance will give you the same privileges to the best private hospitals with a significant discount.
Certainly, you can also get private insurance for you and your family, which provides you with completely free services in the best private clinics in the city!
In other words, living in Mersin, there is no need to worry about your health and the health of your children!
And medicine in Turkey is indeed at a very high level!
Culture and Entertainment
Mersin is a big city with a rich environmental and cultural heritage.
As this city is famous for its citrus fruits of the highest quality, every year in November Mersin hosts the "citrus festival" (Narenciye Festival).
It is a fascinating show that can only be seen in Mersin. This festival generally lasts for several days.
For fans of classical music, the city has the state opera and ballet theater, ranked as the fourth largest in the country.
There are many museums and art galleries in Mersin.
History admirers can visit the archaeological museum, and those who are interested in military machinery can visit the Navy Museum. Museums are available for visits all year round.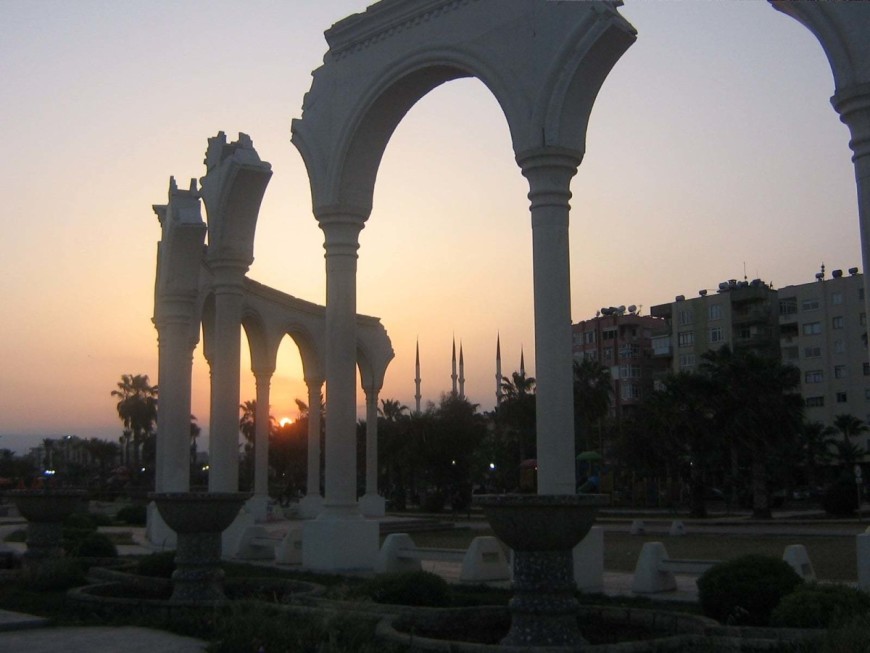 Among the main places of interest in Mersin are the ruins of Soli (Pompeiopolis) - people have lived here since the Neolithic Age, and the town of Soli was founded in the VII century BC. And the most exciting fact is that the ruins are located on the shore, right in the center of the city.
Kizkalesi Castle (Maiden's Fortress) is the landmark of Mersin.
It was built in the XII century and is located on the island 200 meters from the coast. This castle has a lot of interesting legends that locals love to share with tourists. You can get to the castle by motorboat.
Caves of Heaven and Hell, the city of Kanlidivane, Sason Canyon, Astım Cave, Adam Kayalar ( human sculptures placed at the bottom of the canyon), and many other environmental monuments will amaze you.
Many excursions and great areas of nature - will offer recreation and entertainment to any taste, not only in summer but also in winter!
For the more active ones, Mersin has an Aquapark in Mezitli district and the Lunapark in Marina.
Living in comfort and simple adaptation
Mersin and areas near it have natural gas and central heating, thus allowing you to keep your home warm in winter.
Although temperatures in winter are not below +10, on rainy non-sunny days the house becomes quite cool, so for your convenience and comfort, it is recommended to have central heating.
Thinking about moving to another country or about buying a property abroad one of the important questions our clients ask us is: will we be able to find friends, as we do not know the language, will we feel lonely?
A large number of nationals live in Mersin, so you will not be lonely.
Also, English-speaking residents of Mersin often organize meetings, and celebrations of significant events - New Year, Easter, etc. in beloved cozy restaurants or cafes.
If you suddenly get bored of the usual foods or meals, there are stores in Mersin that sell groceries and food for us.
Walking along the promenade, do not be surprised if you hear a familiar speech, as someone is already enjoying sunny Mersin!
This means you will never feel lonely and you will always have the opportunity to make new friends in a country you are still unfamiliar with.
The Shops and Shopping
Let's get to the pleasurable subject of shopping. Yes, indeed, everyone loves to do shopping!
Mersin has many big modern malls with many stores, cafes, cinemas, and a game area for children - in general, in these malls, you can find everything to suit all tastes. The largest shopping centers in Mersin are Forum Mersin Mall, Sayapark AVM, Soli Center AVM, and others.
The Marina, located in the center of Mersin, is also a hotspot for lovers of shopping and having a great time.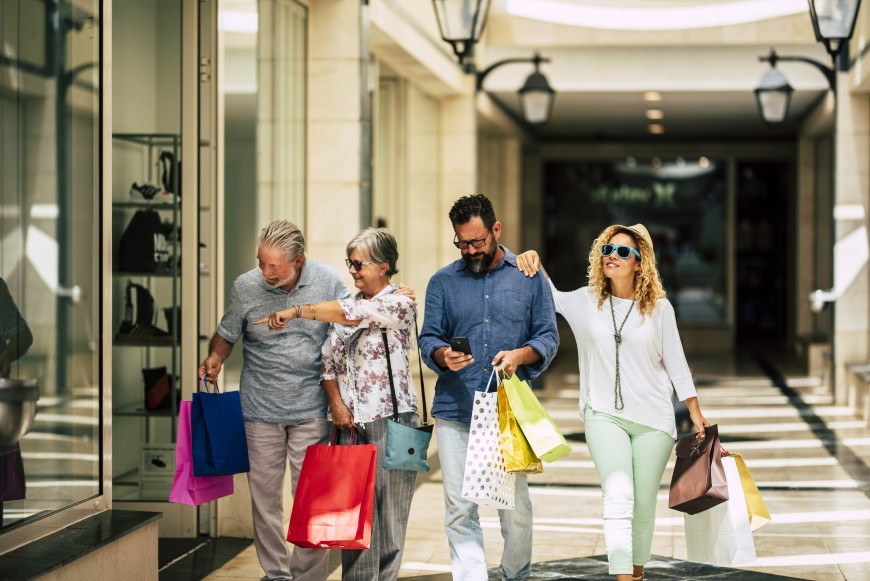 In addition to shopping centers everywhere, you can see different stores, which are linked to the streets of Mersin.
On certain days in every area of the city, there are traditional Turkish bazaars, where you can buy not only fresh fruits and vegetables but also a variety of domestic goods.
Comparing the prices of food, restaurants, accommodation, transport, clothing, and most importantly, real estate, we can be pleasantly surprised, as they are much lower than in other major cities of Turkey.
Sports
As Mersin's climate is warm all year round, there are plenty of options for citizens to choose a sports activity.
Walking along Mersin's seafront, you can see a number of tennis courts and basketball courts.
Especially swimming, which you can enjoy all year round. Almost every park in the city is equipped with outdoor fitness equipment.
Those who love to ride a bike will appreciate the extraordinarily developed Turkish standards bicycle infrastructure: cycle paths, bicycle parking, and bike rentals - all at the level of the Western European metropolises.
Mersin also has a rhythmic gymnastics club headed by English-speaking coaches, which can give your children a great opportunity to try their hand at gymnastics.
Mersin has its own stadium Mersin Arena Stadyumu, as well as many sports complexes for sports, the largest and most famous of them, are Servet Tazegül Spor Salonu, Edip Buran Spor Salonu, Servet Tazegül Spor, and others.
Mersin also has an indoor Olympic swimming pool Mersin Olimpik Yüzme Havuzu.
For winter sports enthusiasts there is the Kayseri ski resort, located about three and a half hours' drive from Mersin.
Here visitors can enjoy skiing, snowboarding, mountain climbing, trekking, and other sports.
The Religion
Mersin is an important city with respect to religious tourism as it is the birthplace of Christianity.
Tarsus, which is 30 km. away from Mersin, is a popular destination for Christian tourists as it has many religious monuments.
There is an active Orthodox Church in Mersin, where the Orthodox diaspora celebrates Christmas, Easter and worship services.
Restaurants and Cafes
The promenade, crowded with cafes, restaurants, and hookah houses - all this shows the Turkish hospitality
In Mersin Marina, you can taste gourmet food while enjoying an amazing view of the sea.
Those who prefer the traditional Turkish breakfast in the mountains with an amazing view will also find pleasant restaurants such as Sarnıç, and Gönul. Fans of Japanese cuisine will also find some delicious sushi restaurants.
Mersin will surprise you with a variety of dishes - from traditional Turkish cuisine to delicious handmade burgers.
And the most important thing - the prices in Mersin restaurants are much lower than in Istanbul, Alanya or Antalya, in particular.
Districts of Mersin
Mersin is administratively divided into 13 areas.
The most famous and popular districts of the city for foreign citizens are Çeşmeli, Tece, and Mezitli, situated directly on the first shoreline.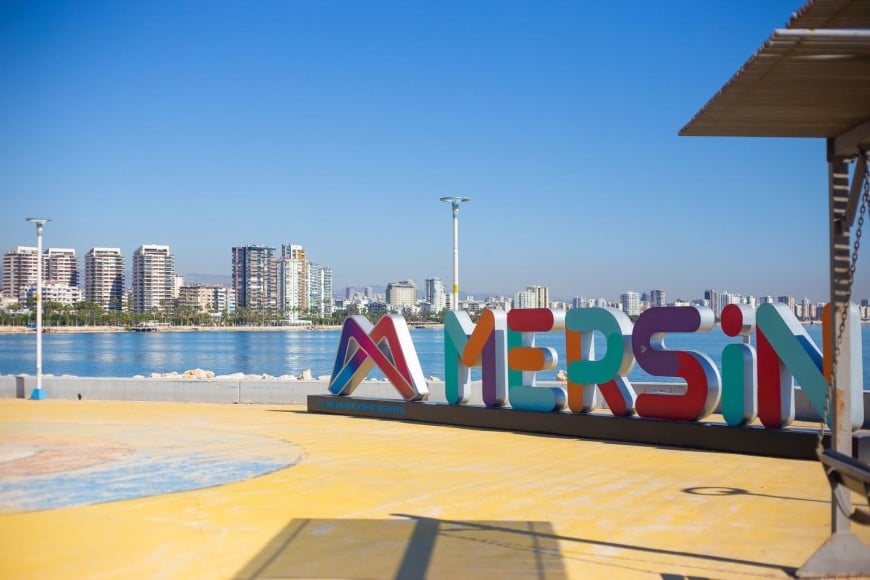 Some, on the contrary, prefer a quieter and more distant from the city center areas such as Erdemli or Tomuk.
In these areas, you can enjoy the fresh air, calm sea, and a rest from the urban hustle and bustle. And the prices of apartments will surprise you.
Districts Akdeniz, Mezitli, and Yenişehir are also in high demand among foreign customers, as they are located close to the city center.
Mezitli is the specialty of Mersin. The location of this area is unique as it is very close to pure beaches and at the same time close to the city center.
Most of the private schools are located in Mezitli, and it is a huge advantage. There are also several big private hospitals, such as City Hospital, Medical Park, and Ortadoğu. Many business centers and offices are located here.
Among the locals, the Mezitli area is known as a family-oriented, quiet, and peaceful place. The area is not only given special attention by our fellow countrymen, but the locals also give it their preference, thus again pointing to its livability.  
The district of Yenişehir means "New City" in Turkish. The district is really quite new, although it is growing fast. Here you will not see the sea from your window, but it has its own advantages. There are big shopping centers, big private hospitals, and clinics in Yenişehir and it is a really lively place to be.
Choosing an area to invest in real estate, we must be guided by the purpose of the purchase.
Some customers buy real estate for permanent residence by the sea in the neighborhood with their compatriots, others, on the contrary, want to live closer to the native population and experience the Turkish way of life.
That is why we advise you to define your goals in buying real estate and we will help you to choose an area and advise you in detail, pointing out the advantages and features of a particular area.
Real estate in Mersin
Mersin is just becoming popular among foreign tourists. People have only in the last few years started to hear about Mersin from the local word of mouth, from the Internet, from friends. That is why there are still such attractive and fascinating prices.
You can easily choose and buy 
apartments in Mersin
to suit every taste. It can be the most budgetary options that start for example from 30.000 euros, and elite complexes on the seafront with magnificent views of the sea and beaches, from 150,000 euros and above.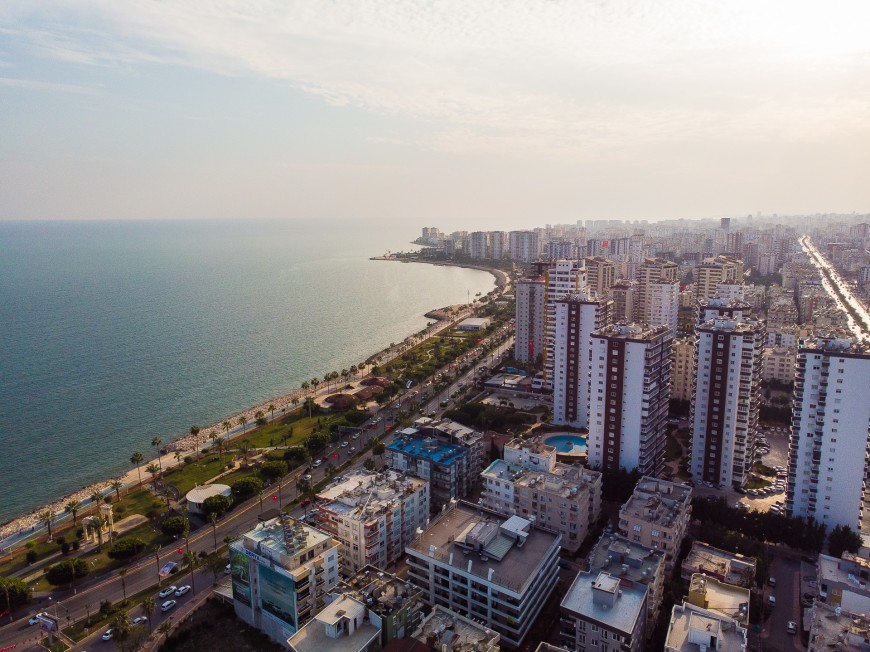 This city can offer you unique projects at very competitive prices with a multi-year period of repayment in installments!
The Tolerance Company has its
own office in Mersin
and its own highly competent employees, who will help you make the right choice and will further assist you in all matters of adaptation in Turkey.
When choosing Mersin to buy property, do not forget that it is not just a rapidly growing resort city, but also one of the largest industrial centers of Turkey, as well as an important seaport, giving the city a special significance and liquidity.
At The Tolerance Company, we can offer you the widest range of properties in Mersin with the lowest price guarantee.
Our 18 years of experience and thousands of clients' feedback show that you can trust us to choose and buyflats and
villas in Mersin
 and we will do it as safely and reliably as possible!
Our team of experts will find the best deals for you in the shortest time!
We were happy to be with you and tell you about the future pearl of Turkey - the city of Mersin.
Subscribe to our
YouTube-channel
  to stay updated on the most relevant events from life, real estate, and relocation in Turkey. We know and talk about what others don't know or don't talk about!